Monterey Bay Aquarium Seafood Watch Program Helps Consumers Make Better Seafood Choices
Go Fish! But Should It Be Wild or Farmed?
Seafood is a hard category to navigate: farmed versus wild, mercury levels, and overfishing are just some of the things to think about when buying it. Adding to the confusion is that the arguments on each side are often changing due to the dynamic nature of the industry. I try my best to be a responsible consumer but I'm usually left feeling overwhelmed by all the convoluted information out there.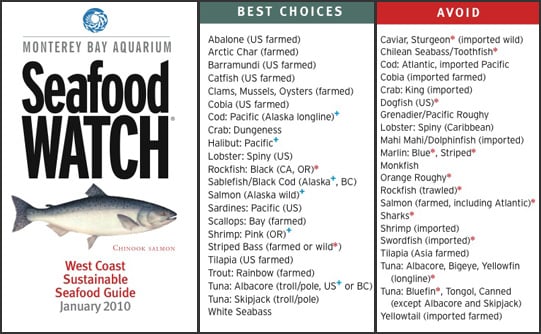 This week CNNHealth explored the argument between farmed and wild fish. It was a thoughtful piece but it didn't make the argument clearer for me. Proponents of farmed fish, particularly salmon, say that the health benefits (omega-3 fatty acids, protein, low calories) far outweigh its risks (high levels of toxins and environmentally unsound farming practices). Naturally, opponents argue quite the opposite.
To find out about a free guide that you can use to make smarter, healthier seafood choices, read more.
I often find myself at the fish counter scratching my head wondering whether or not the halibut has too much mercury in it, or if that delicious looking piece of ahi is pole-caught. That's why I'd like to take a moment to thank the Monterey Bay Aquarium and its Seafood Watch program. Seafood Watch is a resource that lets you know which seafood is best to eat, which to avoid, and some good alternatives, based on where you live. The "avoid" category is seafood that is overfished and/or cultivated in ways that harm marine life or the environment. The program also tells you which fish are particularly high in contaminants like mercury and dioxins.
I love that there are a few ways to access this information too. You can use the website to search for a particular fish, print out one of the handy pocket guides, or use it on your iPhone. There's even a pocket guide for sushi that you can take with you when you're dining out. My favorite list, though, is the Super Green list — it lists the fish that are best for you from a health standpoint (think omega-3s) and also good for the environment. And this week, for the first time ever, a farmed salmon has made the Seafood Watch good list. I carry the pocket guide with me whenever I go shopping or out to eat, and it's really helped me find another way to stay connected to the food I eat.
Print one out for yourself and see what you think!