More Men Are Competing in Women's Races
Men Competing in Women-Designated Races: Cool or Not?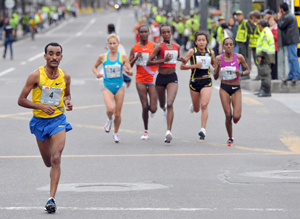 The Wall Street Journal ran an interesting piece this week on the rising trend of men competing in women's races. The article called out a Mr. Jonathan Mederos, a 25-year-old philosophy teacher who, among other things, is last year's winner of Disney's Princess Half Marathon. Jonathan isn't the first guy to piggyback on a race that is clearly for women, and as such, some race organizers are pulling out the stops to discourage it from happening even more.
". . . many women's races present trophies only to female winners. Goodie bags often contain feminine-cut T-shirts, along with swag like perfume samples, chocolates and pink sandals. One race is giving away feather boas and tiaras."
Salon also recounts that in the upcoming Run Like a Diva half marathon, "medals will be presented by shirtless firemen." Adding the commentary that all this girlie behavior — shirtless men, pink boas, and skirt-themed races — may have the potential to turn off female competitors, too.
It wasn't that long ago that women had to fight to even compete in a marathon, let alone alongside men. 1972 marked the year that we were allowed to run the Boston marathon; before that female participants resorted to bandit running or registering under ambiguous names. Under this huge umbrella, the idea of men competing in female races is a tricky argument, especially when their reasons for doing so vary across the board. How would you feel if you looked around while running a "princess" marathon only to be surrounded by Tom, Dick, and Harry?