Motorola MOTOACTV Review
Gear Review: Motorola's MotoACTV Fitness Tracker
Is getting fit one of your New Year's resolutions for the coming year? Whether you're just diving into a new regimen or need a better way to track your workouts, you'll love the new MotoACTV fitness tracker from Motorola.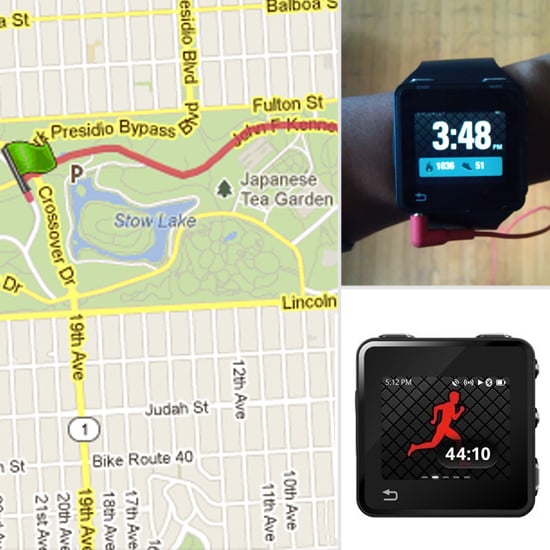 Released in November, the MotoACTV promises to be your constant fitness companion, and with good reason. It can track calories burned, pace, speed, steps taken, and GPS route out of the box, and holds up to 16 GB of music and workout data. All features that will make anyone's workouts better, so I was happy to test out the 8 GB version that Motorola recently sent over ($250; the 16 GB version goes for $300).
The MotoACTV is slightly bigger than the iPod Nano, and like the Apple product, it has a simple interface making it completely intuitive as soon as you power it on. You can use it as a pedometer, and the home screen shows the time, steps taken, and calories burned for the day. By swiping left and right you can navigate to four more screens with different options. Five tactile buttons and one designated back button on the touch screen work all the main functions, which I appreciated since having easy-to-feel buttons made pausing music or finding my way back to my workout screen much faster than if I were fumbling my way through touch screens. And after entering your height and weight stats, the MotoACTV tracks the amount of calories you burn throughout the day, including your basal metabolic rate. When on the workout screen, you can choose between five styles — running, cycling, walking, elliptical, and step machine — and what type of workout you want (like racing against a previous personal best or setting a time and distance goal). During a workout a pleasant voice keeps you updated on certain milestones and how long you have left in your workout.
Keep reading for more on how the MotoACTV performs.
The MotoACTV's main goal is to further fuse your fitness goals with your all-important workout music playlist, and it does so with a few features that made me that much more excited about my workouts. For one, the device logs your performance per song every time you work out and compiles a performance-enhancing playlist to give you that extra boost when you need it most, and you can also designate a song as your "Fit Song" if you need further inspiration. Not only was having the customized playlist a much-needed secret weapon on those days when I really, really didn't want to go for a run, but it was pretty cool to see just how much the right song can motivate me to shave a few seconds off my pace.
As rich as the capabilities are on the device itself, the real analytical action begins when you upload your data to your computer and view your workouts using a free account online. Each workout has its own set of graphed stats, detailed route maps, elevation, and performance stats for each song you've listened to so you can compare how you worked song for song. I love uploading my workouts as soon as I get home — I can see exactly how the day's conditions, from whether I had a workout buddy with me or what snack I ate before I left — affected how I performed, and add notes to the workout to help me remember it all. You can also track heart rate, cadence, or power zone data if you've added compatible ANT+ or Bluetooth sensors, although I haven't tried these features out yet. You can also schedule a workout through the website, which will then show up on your MotoACTV after a sync. The site also tracks your workouts in a calendar spread so you can easily see whether or not you're keeping up with your routine — nothing like a subtly disapproving message saying, "It looks like you didn't work out today" to keep you motivated!
In general, the MotoACTV works incredibly well, but there are a few minor annoyances that I came upon while testing it out. For one, kitting out the device can get expensive — if you don't want to use the clip, you'll need to invest at least $30 each for another way to attach the MotoACTV to your body or bike (although right now, Motorola is offering the wrist band for free when you purchase a MotoACTV). I found that the wrist band was the most useful — you wear it like a watch so it's easy to check up on your stats — but it's bulky and rigid so it hit my wrist bone at an awkward angle if I don't wear it very loose. Also, the included Motorola Sport Headphones aren't the best; while they stayed put and come with a handy clip to keep them out of your way, I didn't find them to be very comfortable; the over-the-ear design irritated my ears not long after I start a run.
Technology-wise, most of the MotoACTV's features are easy to use and top of the line. Syncing with iTunes and your online account, for example, is easy once you've downloaded the software, which happens automatically the first time you connect your MotoACTV with your computer; you can later sync music and workout data without the USB once you set up a wireless connection. But while the GPS is an extremely useful tool, at times I found it took awhile for it to register, even though I was usually outside and in an open area. I usually had to wait around three minutes for the GPS to lock, standing completely still, before all my outdoor workouts, and during one workout I thought it had registered only to find out later that my route hadn't been tracked. And while having Bluetooth headset capabilities for your cell phone may not exactly be a drawback, I found that it was unneeded — since the MotoACTV replaces the need for you to listen to music on your smartphone while you work out, I always left my phone at home. Maybe being able to answer your phone on your MotoACTV is useful if you're going on a run in an isolated area and taking your phone (or while you're listening to your MotoACTV while on the treadmill with your phone nearby, but who wants to be that chatty person at the gym?).
All in all, the MotoACTV has been a constant companion on all my cycling and running workouts. While the investment may be a little high, the MotoACTV does what it says — it pushes you harder, makes tracking your workouts way more accurate, and brings a whole new dimension to your workout playlist. It's the perfect fitness tracker for anyone who's serious about their fitness music and wants to learn more about their performance.
Do any of you have the MotoACTV? Let us know what you think!