Mud Runs For Women
Redefine the Term "Dirty Girl" With a Mud Run
Forget cleaning up your fitness act; it's time to get dirty! Leave the pavement behind, and get fit with your girls in a mud run. Not your average race environment, these courses are filled with muddy obstacles to challenge your strength and agility. No need to be embarrassed, either. These races are only for the girls, so those tutus and tiaras can make their appearance outside your costume box. When all is said and done, (we promise) you'll be guaranteed a good laugh and an active adventure with your girlfriends. What more could you ask for?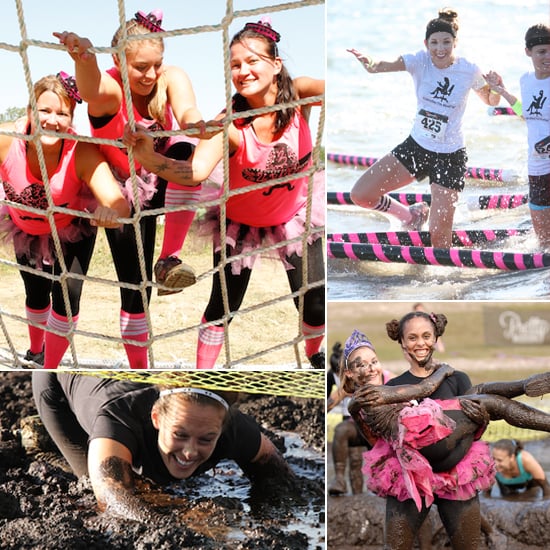 Mud and Obstacle Runs
Dirty Girl: Let this 5K take you outside your comfort zone and have fun doing it. This race is solely for fun, so all athletic abilities are welcome. Between the slides, bungees, and crazy team costumes, you're guaranteed to have a good giggle with your girlfriends.
Cost: $65 to $100, depending on location.
Prize: Memories, live music, and refreshing (adult) beverages.
Training Groups? Don't be so serious! You can train for it, but ultimately, Dirty Girl is just a great active outing with your friends.
Locations: With events in almost all states, there's likely to be a run near you! Go here for exact locations.
Pretty Muddy: Started by two businessmen who wanted their wives to have a little "me time," Pretty Muddy is a "pretty muddy" race where you can laugh, let your hair down, and have a good time — without the stress of the daily grind.
Cost: $70
Prize: A "pretty epic finish-line party."
Training Groups? Although all fitness levels are encouraged, you can find training groups near each race location.
Locations: Dallas, Richmond (VA), Sacramento, Atlanta, Chicago, Tampa, Columbus, and Miami.
Shape Diva Dash: Tutus and obstacles pretty much sum up the Diva Dash! This 5K course is spotted with stations to test your agility, balance, strength, and speed. Race through it or tackle it at your own pace, but rest assured there will be plenty of enthusiastic camaraderie and embellishments.
Cost: $55 to $75, depending on registration date.
Prize: A limited-edition t-shirt, Shape magazine, swag bag, custom bib, and donations to local nonprofits.
Training Groups? Although all fitness levels are encouraged, you can find training groups and partners near each race location.
Locations: Atlanta, San Diego, Austin, Boulder, Fort Worth, Chicago, Boston, Washington, New York Metro, and Miami.