Mulled Cider With Calvados Apple Brandy Recipe
A Lighter Holiday Cocktail: Mulled Cider With Calvados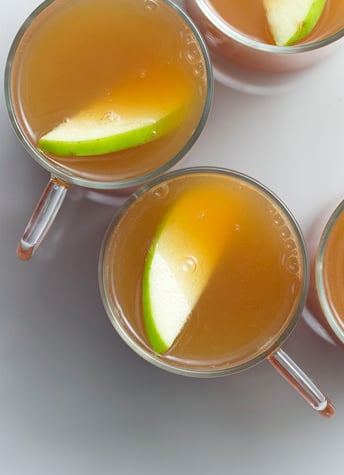 It's starting to get chilly out there! Over the holidays, warm drinks and cocktails like eggnog, Tom and Jerrys, and hot buttered rum are in abundance. The problem is that these drinks are stacked with sugar and saturated fat.
Spiked mulled cider is a great alternative to these holiday favorites. Hot cider is satisfying on a cold Winter's night, and its spices are reminiscent of the season. I love that the sweetness of the drink comes from using all-natural apple cider and just a hint of brown sugar. And unlike most warm holiday cocktails, there's not a single gram of fat in the recipe.
To see the recipe after the break!.
Mulled Cider With Calvados
Ingredients
3 cups unfiltered, unsweetened, and unfermented apple cider
2 tablespoons firmly packed light brown sugar
3 whole allspice berries
1/4 teaspoon freshly grated nutmeg
4 whole cloves
two 3-inch cinnamon sticks, broken into pieces
1/2 Granny Smith or other tart apple, cored and sliced thin
1/2 cup Calvados (apple brandy), or to taste
Directions
In a saucepan stir together the cider, the brown sugar, the allspice, the nutmeg, the cloves, the cinnamon pieces, and the apple, simmer the mixture, covered, for 10 minutes, and stir in the Calvados.
Heat the mixture over moderate heat until it is hot and discard the allspice, the cloves, and the cinnamon.
Divide the mulled cider among heated mugs and garnish each drink with a few of the apples slices.
Serves 4 to 6.
Information
Category

Drinks, Hot Drinks

Cuisine

North American