Music Festivals With Fitness and Yoga
Summer Music Festivals That Offer Fun Ways to Stay Fit
Summer music festival season is in full swing, and we can't wait to get in on all the action. While all these adventures are certainly a fun way to head to a big party, sometimes the whole thing can become a little too much. After all, if you're taking your vacation time to head to one of these events, don't you want to come back at least a little revived and rejuvenated?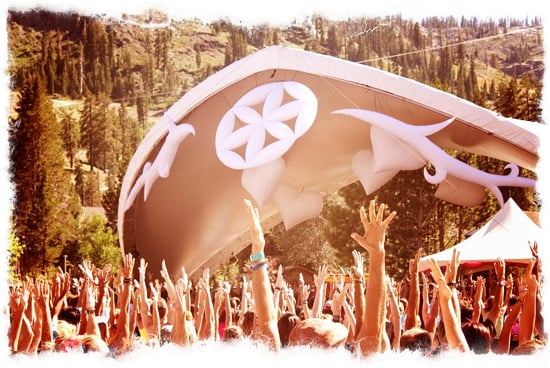 The Wanderlust Festival set the precedent, but lots of other festivals have taken notice of the close-knit relationship that can exist between music and fitness. You're going to be burning some serious calories by shaking your thing as your favorite musicians perform, but if you want to get more fitness into your festival experience, here are some of our favorite festivals that offer options to complement the whole experience.
When: May 18 — May 20, 2012
Where: Gulf Shores, AL
What They Offer: This year The Hangout is offering a series of mellow morning yoga classes taught by Kelly Morris. Live music from double bassist Garth Stevenson will accompany the Rock Your Body yoga experience that welcomes yogis and yoginis of all levels. Did I mention this whole thing is situated on a beautiful beach?
When: May 24 — May 27, 2012
Where: Cumberland, MD
What They Offer: DelFest is a festival that understands the connection between mind, body, and spirit. They hold activities coined movement playshops open to all festival attendees. Yoga and hula-hooping are the stars of the fitness show at DelFest.
When: May 24 — May 28, 2012
Where: Silverado, CA
What They Offer: Lightning in a Bottle created a special environment called the Lucent Temple of Consciousness dedicated to workshops, speakers, and lots of yoga classes. We also love that at LIB you can take a workshop and learn how to grow your own spirulina!
Keep reading for three more festivals that offer fun ways to stay fit.
When: May 31 — June 3, 2012
Where: Ozark, AR
What They Offer: On the site of the festival, there's yoga every morning from 9 a.m to 11 a.m., before any acts hit the stage to do their thing. And from 11 a.m. to 12 p.m., you can get a taste of the hula-hooping craze at a daily hooping playshop. The festival also offers information about off-site excursions like fishing, canoeing, and hiking — all great ways to sweat it out and get grounded before you head back to the party.
When: June 21 — June 24, 2012
Where: Bondville, VT
What They Offer: Like I said, Wanderlust is a festival in a league of its own. Ask someone who has been to Wanderlust whether the yoga or the music is more fun, and they'll tell you that they just can't choose. Seane Corne, Rodney Yee, and Cyndi Lee — just to name a few! — come out to teach powerful yoga classes, while wild musical acts like Ziggy Marley, Ani Difranco, and Beats Antique take the stage. If you don't live in Vermont, no need to be discouraged. There are three other Wanderlust festivals in Copper, CO, North Lake Tahoe, CA and Whistler, BC.
When: June 29 — July 1, 2012
Where: Madison, WI
What They Offer: While there's also a Bhakti Fest that takes place in California, this is the first year that they're bringing this amazing event to the Midwest. Bhakti is a festival that does not attempt to separate the connection between yoga and music. Kirtan stars like Krishna Das and Jai Uttal will take the stage and offer workshops, while renowned yoga teachers like Saul David Raye and Sarah Ivanhoe teach classes.