Natalie Portman's Diet and Exercise Routine
Natalie Portman's Fit Philosophy
Happy birthday, Natalie Portman! The Oscar-winning actress turns 31 on Saturday, and to celebrate we're taking a look at how the Ivy League grad and mom stays healthy and fit. Here's how Natalie stays in great shape.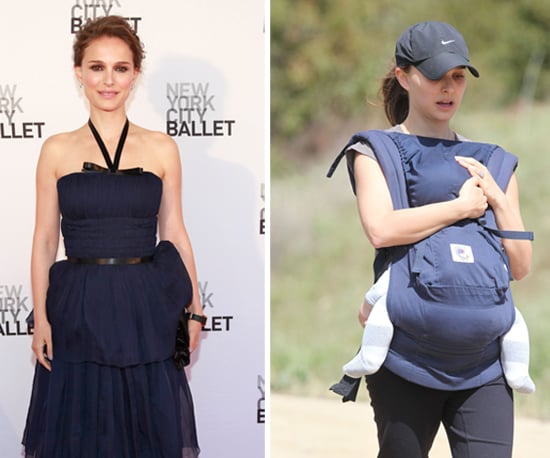 Her conscious diet: Natalie's been a vegetarian since her preteen years and even took it a step further in 2009, declaring herself a vegan after reading Jonathan Safran Foer's book Eating Animals, which she said turned her from "a twenty-year vegetarian to a vegan activist." She gave up being vegan, however, when she became pregnant. "I was listening to my body to have eggs and dairy and that sort of stuff," she said about going back to vegetarianism.
While Natalie's reason for following a vegetarian diet may be due to her love of animals, following a fresh plant-based diet — as well as being extra careful about knowing exactly what's in her food wherever she goes — helps her forgo the usual salt-, fat-, and calorie-laden traps when it comes to processed foods. She also knows that healthy eating begins at home. "I cook a lot, and I even do vegan baking," she told Vogue in an interview last year.
Her exercise: Her eight-hour-a-day Black Swan regimen may have been intense, but when she's not training like a professional ballerina, Natalie's exercise routine looks a lot more realistic. The busy mom often uses her workout time to spend with husband Benjamin Millepied and son Aleph. Whether she's hiking around LA with baby Aleph in tow or going for a run with Benjamin, Natalie makes staying active a part of her family's routine. She's also a fan of yoga and is a regular at the gym (both during and after her pregnancy).
Her healthy outlook: While she may be conscious of how she treats her body, Natalie believes that life is about doing what you love. "I like pleasure, I like joy. I'd never get to the point where I would starve or injure myself . . . I'm the opposite — when I'm hungry, I eat, and I always make sure I'm eating something delicious," she said in Vogue following the release of Black Swan.