Natural Cold Remedies to Do Before Bed
Sneezy, Stuffy, Runny: Natural Cold Remedies to Do Before Bed
If if you eat a healthy diet, exercise regularly, get enough sleep, and wash your hands a bazillion times a day, you can still find yourself reaching for the tissues and cough drops. Luckily cold symptoms don't last too long, but here are some ways to get relief from your ails without popping pills or swallowing gross liquid.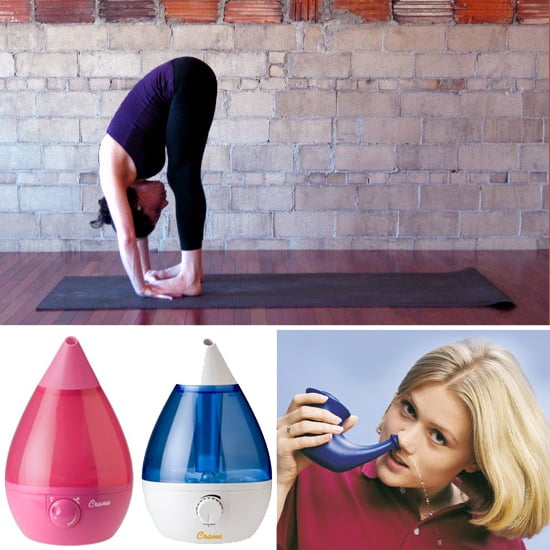 Heat and Water
Before slipping into bed, take a hot shower. Make sure the bathroom door is closed and the fan switched off so you can breathe in as much steam as possible. Take a washcloth, run it under the hot water, place it on your face and gently massage your sinuses to loosen up mucus. If you have a neti pot, use that in the shower to drain your nasal passages. If you're weirded out by flushing warm salt water through your nose, use an over-the-counter saline spray.
Keep reading to learn three other natural ways to get cold relief before hitting the hay.
Invest in a Humidifier
When we turn up the heat in the Winter, it dries up the air and can exacerbate your congestion. A cool mist humidifier like this one from Crane is safe for kids and pets, and will add moisture into the air, helping with clogged sinuses and your dry cough.
Stand on Your Head
Doing a little stretching before bed will warm you up, which helps get mucus flowing, but there are also certain yoga postures that are beneficial when you have a cold. My favorite is headstand, but here are a few other poses Yoga Journal recommends for relief from cold and flu symptoms:
Prop Your Head
Add a couple pillows to your side of the bed so your head is higher than your heart. This will help relieve your congested nose and sinuses, and also helps prevent the postnasal drip that causes coughing.