When things get bound up in your belly, it leaves you feeling uncomfortable, bloated, and in an all-around bad mood. The next time you're dealing with constipation, don't ignore the issue or rely on laxatives. Here's how to find relief and get your digestion back on track, quickly and naturally.
Source: Shutterstock [1]
What to Drink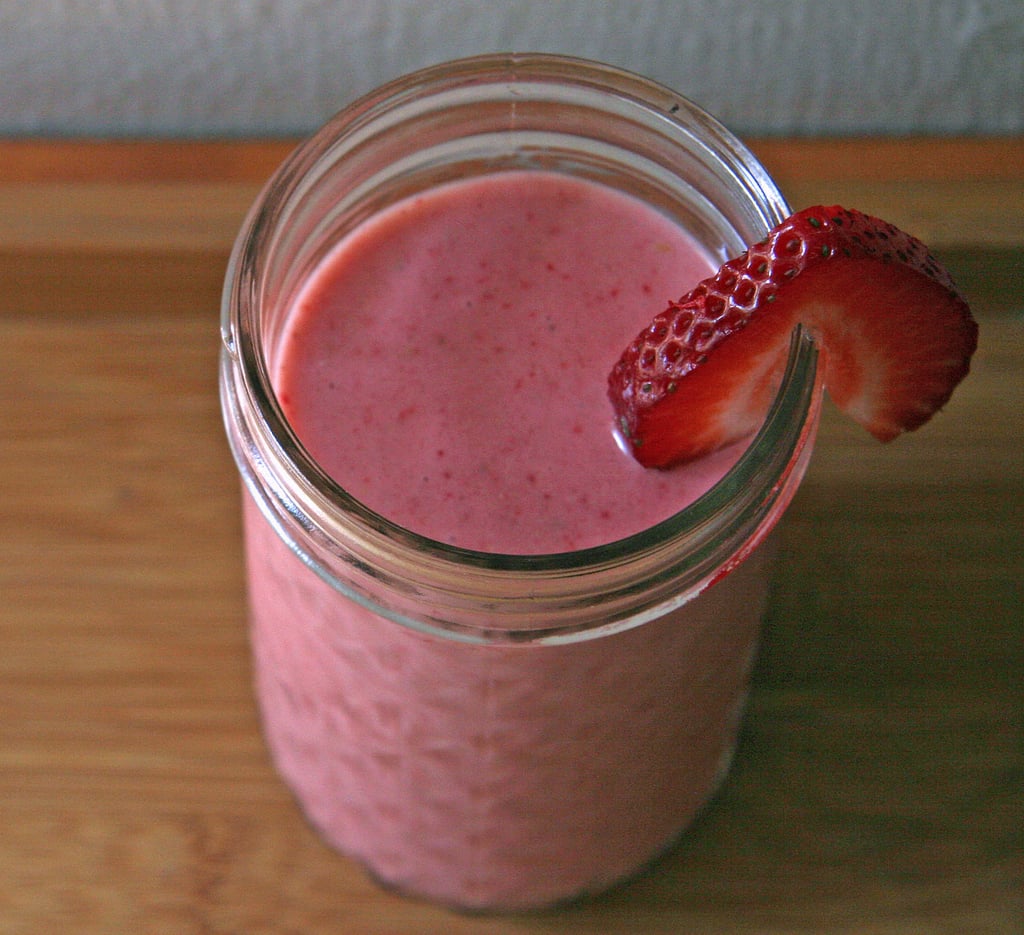 Water: Drinking water helps stimulate your digestive track and break down food. Just take it from actress Cameron Diaz [2]! She credits her clockwork bathroom schedule to her hydration ritual [3], chugging a huge bottle of water first thing in the morning. Before even considering a laxative, make sure you've been staying hydrated — and then grab another glass.
Warm liquids: Warm liquids can help relieve constipation, and a cup of hot water with lemon, tea, or coffee can stimulate the muscles in your digestive system to contract [4], causing a bowel movement. However, if you've been bound up for a few days, coffee may have the opposite affect, since it's also a diuretic. Talk to your doctor if you're concerned.
High-fiber smoothie: When you're feeling constipated, sipping on a fiber-rich smoothie can make a huge difference. Not only will this Harley Pasternak PB&J smoothie [5] (pictured) fill you up and keep you satisfied all morning long, it offers over 100 percent of your daily recommended fiber, including plenty of insoluble fiber — the kind you need to get things moving.

Photo: Michele Foley
What to Eat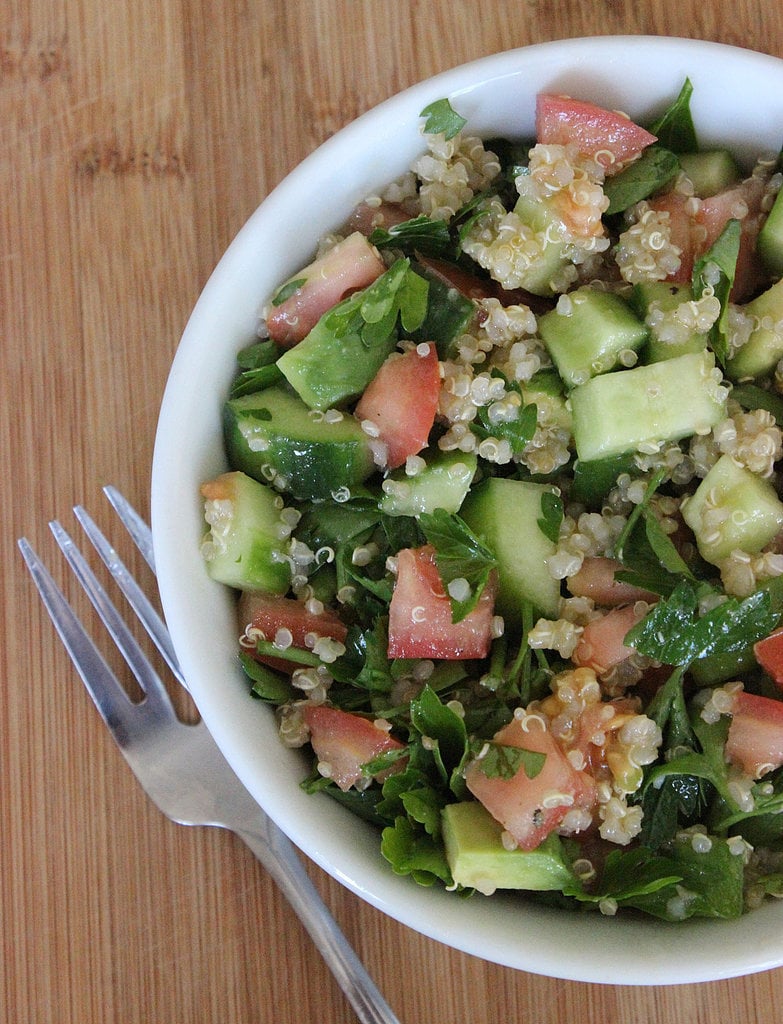 Fiber-rich fresh foods: High-fiber fresh foods are truly some of your best defense against a bound-up belly. A produce-dense salad like this apple and cabbage detox salad [6] or Jennifer Aniston [7]'s favorite quinoa salad [8] (pictured) will support your body's needs naturally.
The right snacks: Instead of snacking on empty calories or whatever's available, make a smarter choice at snack time. If you're always on the go, keep these high-fiber store-bought snacks [9] in your purse for when hunger strikes.
Probiotics: If you've recently been on antibiotics and are having trouble going to the bathroom, probiotics can change the game. Probiotics help rebuild that good bacteria and support digestion. You can take a supplement from the health food store, or start incorporating these probiotic-rich foods [10] like yogurt or kombucha into your diet.

Photo: Lizzie Fuhr
How to Move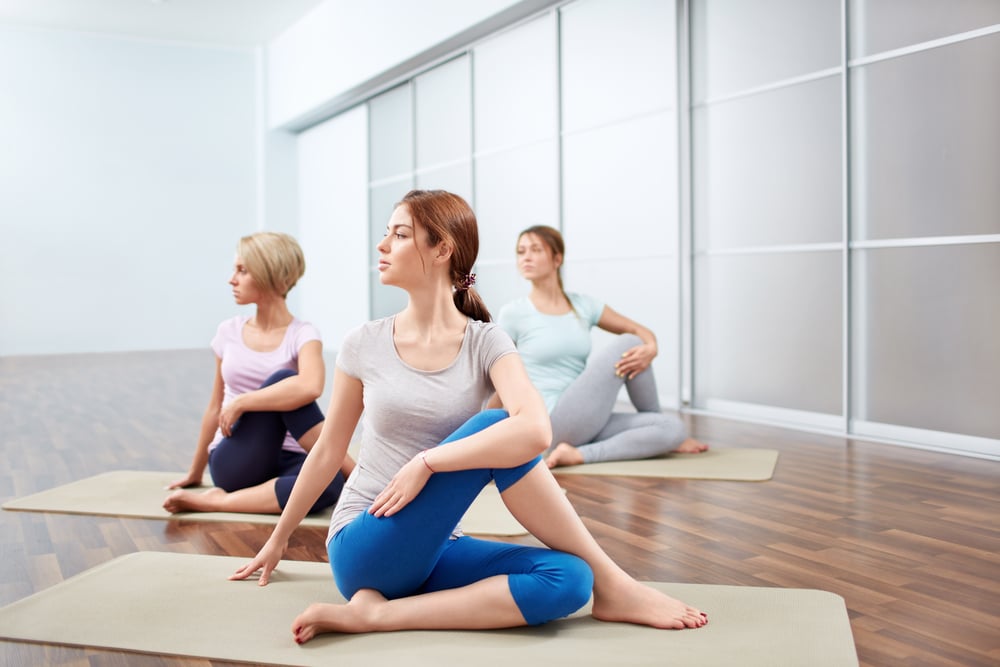 Cardio: You might be feeling out of sorts, but skipping your workout is only worsening the situation. Lack of exercise can even slow down your digestive tract [11]! Don't worry if you're not up for a serious workout; even a quick cardio session like this 10-minute full-body workout [12] can stimulate your muscles and get things moving quickly.
Yoga twists: If something is stuck or trapped in your digestive tract, a yoga sequence full of twists [13] is one of the best ways to support your body's needs naturally. According to yoga teacher Tara Stiles, "twists just get things moving." Start stretching out your body and massaging those muscles, and you'll be bringing welcome circulation to your whole body.