Natural Snack Ideas For an Intense Workout
Eat Clean, Have Energy: Three Snacks to Get You Through Your Workout
When you're training intensely, fueling right becomes a top priority. Just ask Natalie Uhling, an instructor at the yoga, Pilates, and cardio hybrid SLT Yoga who also leads kickboxing classes. Teaching up to five classes a day means that the Under Armour model needs to stay energetic from morning to night. "Because my classes are super intense, I really have to be engaged," Natalie says. "I do the workout, so I'm drenched and I'm really bopping around." Even if you're not working out five times a day, you'll benefit from Natalie's tips on eating for energy. Check out a few of her favorite all-natural snacks below.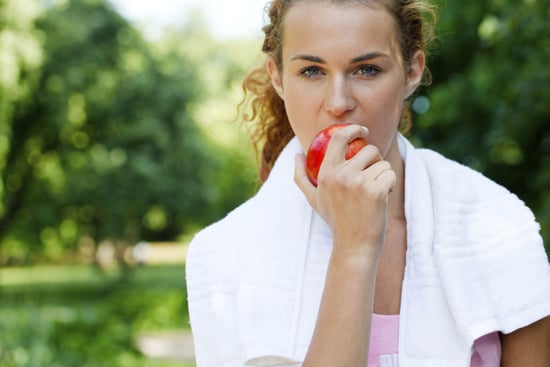 Green juice: For a pre-workout snack that keeps her energy up throughout an intense cardio class, Natalie uses her Vitamix to blend up a nutrient-packed green juice made of kale, spinach, cucumber, broccoli, half a banana, and an apple. "I feel alive when I'm teaching, not weighed down" when she drinks this juice before a workout, she says.
Natural protein bars: Look for all-natural bars, Natalie says; you'll avoid the processed ingredients found in many other protein bars. She recommends Lärabars for their simple ingredient list; make your own similar fruit and nut bars with our easy recipe here.
Perfect pairs: A piece of fruit will give you a natural energy boost, and pairing with protein will help give you the endurance for an intense workout. "For foods that are going to give you a lot of energy, any fruit like bananas [with] peanut butter or almond butter" helps you stick with your workout, Natalie recommends.