Natural Ways to Deal With Allergies
How to Beat the Worst Pollen Season Ever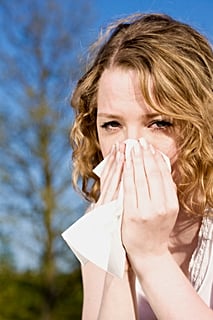 My allergies are horrible this year, probably the worse they've ever been. I am not alone either. According to the Associated Press, experts are saying pollen is at an all-time high, and the words "allergy" and "pollen" are constantly trending on Twitter:
"It's wicked bad this year," said Dr. Mona Mangat, an allergy specialist in St. Petersburg, FL., who can't recall a worse year in the six she's worked there. "We're just overwhelmed with patients right now. We're double- and triple-booked with new patients, trying to work people in because we know how much people are suffering."
If you suffer from allergies then you know how bad it can be: sneezing, itchy eyes, runny nose, and constant headaches are just some of the symptoms. And for many, taking a Claritin or something of the like just doesn't cut it. If you're having an especially bad time this year, my first piece of advice is to visit an allergist and find out what your specific allergies are, and the best way to treat them. There are however, some home remedies you can also try.
Local honey. Many folks I know take a tablespoon of honey a day to combat allergies. The belief is that ingesting the bit of local pollen from honey builds resistance to the surrounding fauna.
Heat therapy. Warmer temperature is a great way to relieve congestion. Try exercising more or investing in a humidifier.
Buy a neti pot. Neti pots are a natural way to get the same benefits as a Sudafed gives but without the side effects. It's a small container that you fill with warm salt water, and use to flush out your nasal passages. Caution: don't rely on a neti pot too much, it can cause problems if used for a prolonged period.