New Exercise Recommendation Is 60 Minutes Daily For Maintaining Weight
An Hour of Exercise Daily For Weight Maintenance?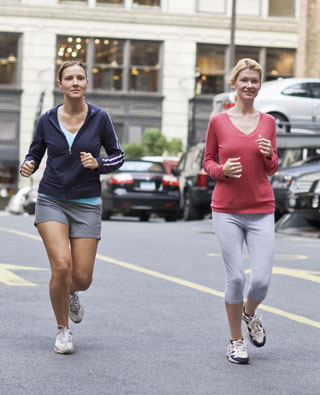 I woke up this morning and did a 40-minute circuit workout and felt proud of myself for getting out of bed and getting my heart rate up. Then I read this headline in the LA Times: "Women Should Exercise an Hour a Day to Maintain Weight, Study Says." I suddenly felt a little like an underachiever.
Let's go back a few years, to when the American College of Sports Medicine in collaboration with the American Heart Association released updated exercise guidelines. These organizations recommended that we all get 35 minutes of moderate intensity exercise daily to keep our scales steady and our hearts healthy. A new study recently released online by the Journal of American Medicine almost doubles that previous recommendation! The study, which followed 34,000 women over 12 years, found that 60 minutes of exercise seven days a week kept women who did not diet from gaining weight. While the women involved in the study were an average of age 54 at the start of the study, it should be noted that by some estimates that majority of Americans gain about 1.5 pounds a year between age 25 and 55.
Dr. I-Min Lee, lead author on the study, explained the study and the results:

"We wanted to see in regular folks — people not on any particular diet — what level of physical activity do you need to prevent weight gain over time. It's a large amount of activity. If you're not willing to do a high amount of activity, you need to curtail your calories a lot."
Many health experts, however, are not quite buying this new recommendation since there are other factors in weight maintenance, like diet. One skeptic commented,
"Women who decide to be physically active may also decide to eat healthier and do other things to maintain a normal body weight. This study doesn't tell you it's the physical activity . . . It's complex. It's all about energy balance. It takes a very small imbalance to gain a significant amount of weight over many years."
No matter whether these new recommendations are exaggerated or not, it boils down to diet and exercise and healthy living over the long haul. My personal recommendation: find a type of exercise you love and that you can do for the rest of your life. I hope to be a silver-haired road-biking grandma. What about you?