New Google Health Features
Google Health Gets a Major Update
Do you like keeping track of your health and fitness information online? Two years after its initial launch, Google Health has a brand-new design and new features. Google Health is a free feature allowing you to organize, track, and share important health information in a central place, granting access to doctors, family pharmacists, or others who should be privy to your health history. It stores both medical and fitness history, and you can use as little or as much of the service as you feel comfortable using.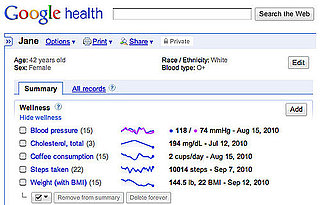 Updates to the site include:


A new, improved dashboard The new dashboard includes more health information, making it a fast, one-stop location for lots of important data. Plus, you can record daily goals and activities directly from the dashboard to better track your progress.
Check out the rest of the new features after the break.
New partner integration Google Health now works with more popular fitness services like Fitbit and CardioTrainer to import health and fitness information directly into your Google Health dashboard.
Journaling and note-taking abilities In addition to recording health and fitness information, you can now add notes to each entry. So if you decide to, say, splurge at a restaurant for a work celebration, you can record those important details for future reference. Or, use the feature to journal your progress.
More customization and personalization The new design allows for more personal information; details on specific conditions or medications, plus access to relevant links and lab results.
For those concerned about putting all of your health information online, Google assures users that they use "sophisticated security techniques including encryption on connections and on our servers to help keep your information secure and private." Google says it hopes the changes make Google Health both easier to use and more relevant to your daily life.