New Klean Kanteen Insulated Bottles Keep Water Cold For 24 hours
Gear Review: Klean Kanteen Insulated Water Bottle
I have found my new Summer best friend. I am not exaggerating when I say that Klean Kanteen's new Insulated Water Bottle ($26) is the best invention I've seen in a while. Though the concept is simple — this bottle keeps your cold water cold, and your hot beverages hot — it's really changed my life for the better. After all, it's the simple pleasures in life that make it all worthwhile, right?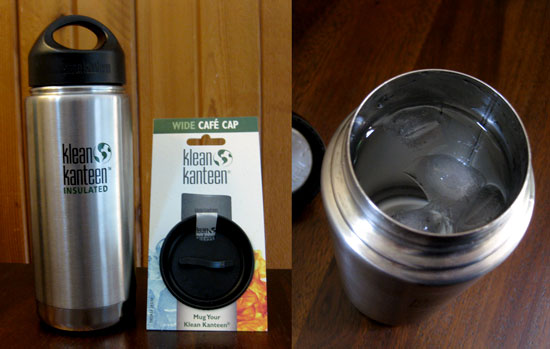 The website says this insulated stainless steel bottle will keep your iced drinks cold for up to 24 hours and they are not lying! I filled my 16-ounce bottle with ice water, and brought it to an all-day concert last week (it was 85 degrees). I didn't end up drinking it all, and when I opened the bottle the following day, it was still icy cold. I've even kept ice water on my desk without the top on, and hours later, there are still ice cubes floating in it. This bottle is no joke. Another plus is that when you hold the bottle, it doesn't feel cold, and it doesn't sweat like a regular Klean Kanteen bottle would. I'm also a huge fan of the wide mouth that makes it easy to plop in ice cubes, easy to hand wash, and easy to sip from.
For more reasons why I'm in love with this insulated bottle keep reading.
This bottle is also great for tea and coffee, keeping those beverages piping hot for up to six hours. You can even buy a Wide Cafe Cap ($6) (shown above) to convert your insulated bottle into a splashproof travel mug. And yes, the cap is BPA-free.
It comes in three sizes: 12 oz. ($23), 16 oz. ($26), and 20 oz. ($28). A little pricey, I know, but honestly, they are well worth the dough. For a handful of dollars more than you'd pay for regular Klean Kanteen bottles, you can use these insulated bottles through every season, enjoying cold water on a steamy Summer day, and hot coffee on a brisk Winter morning.
If you've recently tried some health or fitness gear and you want to share how much you loved it, visit the Good Gear/Bad Gear community group and tell us all about it.