New Places to Do Sit-Ups and Push-Ups in Your Home
7 Places to Drop and Do 20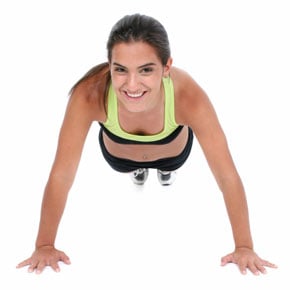 It may be odd, but it's true: I often get my best arm workout while making dinner. It's not that I'm stirring the pot like a maniac or that I'm lifting so much iron-clad cookware. It's the in-between moments that I take the time to drop to the kitchen floor for a few push-ups or challenging yoga moves that provide me a mini exercise break. When I first started the quirky ritual, my kids began doing it with me. Now it's a cooking ritual for all of us to do a few sun salutations followed up with a quick set of push-ups. If you're not a fan of occasional crumbs on your hands, consider making one of these moments your "drop and do 20" time.


During commercial breaks.
While the bath water is running.
Before you brush your teeth.
After putting a load of laundry in the washer.
During the weather report.
Before eating lunch — sneak into a conference room at work!
Copy me and do it in the kitchen when you have a minute to kill.
No need to stick with the basic push-up; here are five fun and challenging variations. So where do you drop for 20?