New Surgeon General Dr. Regina Benjamin Criticized For Being Overweight
New Surgeon General Criticized For Being Overweight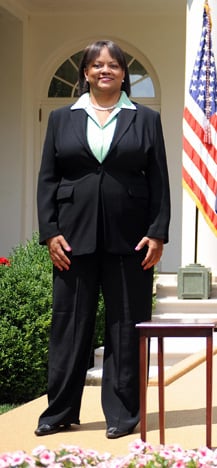 On Monday, Dr. Regina M. Benjamin was sworn in as our country's 18th surgeon general. She's now America's top doctor and the face of the country's public health policy. She's also one of a growing number of Americans considered overweight.
When the announcement of Obama's pick came in late July, it didn't take long for critics to question whether or not Dr. Benjamin was the right choice for the position. What was startling was that they weren't judging her based on her resume or merits but felt she should be disqualified from the position because of her weight. Having an overweight surgeon general, in critics' minds, was irresponsible when America is in the midst of a major obesity epidemic.
Dr. Benjamin took these criticisms gracefully, and in a recent interview with Good Morning America, she admitted that even though the comments hurt, her weight should be an "open dialogue." She went on to say that even though she is struggling with her weight, being fit is "more than just a dress size." Dr. Benjamin's plans are to fight obesity in this country both generally as well as personally alongside the 67 percent of overweight Americans: "So I understand [what it's like to be overweight]. And I want to have them help me, and I'll help them. And we'll work together to try to become a healthier nation."
Do you think Dr. Benjamin's credibility is undermined because she is overweight? Share your thoughts in the comments section below.