New York Time Recipe For Chickpeas, Cauliflower, Peas, and Couscous
Chickpea Delight: Couscous With Beans and Cauliflower
For me, September doesn't only mean back-to-school time; it's also back-to-cooking time. For dinner inspiration I am loving Martha Rose Shulman's new cookbook, The Very Best of Recipes For Health. Don't let the word "health" in the title fool you; her recipes are big on flavor and easy to make.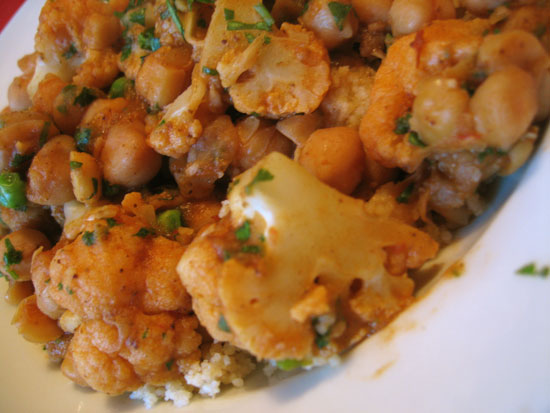 Since I'm eating meat-free for the FitSugar Give It Up Challenge, I have been looking to beans for protein. Nothing beats chickpeas as a filling dinner; remember, garbanzo beans are a dieter's friend. Add some spicy harissa and you have a memorable dish.
Check out the recipe.
Couscous With Beans and Cauliflower
Ingredients
2 tablespoons extra virgin olive oil
1 medium onion, chopped
4 large garlic cloves, minced
Salt
2 teaspoons cumin seeds, lightly toasted and ground
1 teaspoon caraway seeds, lightly toasted and ground
1 teaspoon coriander seeds, lightly toasted and ground
2 cups dried chickpeas or white beans, soaked for 6 hours or overnight in 2 quarts water
1–2 tablespoons harissa or 1⁄2–1 teaspoon cayenne, plus additional for serving
2 tablespoons tomato paste
1 large head cauliflower, cut into small florets
2 – 2 2⁄3 cups couscous, preferably whole wheat
1 cup frozen peas, thawed
1⁄2 cup chopped flat-leaf parsley or cilantro, or a combination
Directions
Heat the oil in a large, heavy soup pot or Dutch oven over medium heat. Add the onion and cook, stirring often, until tender, about 5 minutes. Add the garlic, 1⁄2 teaspoon salt, the cumin, caraway, and coriander, and cook, stirring, for 1 minute, or
until fragrant. Add the beans and their soaking liquid, and an additional 1 quart water, and bring to a boil over high heat. Reduce the heat to low, add salt to taste, cover, and simmer for 1 hour. Add the harissa or cayenne and the tomato paste. Simmer for 30 minutes to 1 hour, or until the beans are completely tender and the broth fragrant. Set aside 1⁄2 cup of the liquid to use to reconstitute the couscous.
Add the cauliflower to the simmering stew and cook, partially covered, for 20 minutes, or until the cauliflower is tender and falling apart. Taste and adjust the seasonings, adding salt, garlic, or harissa or cayenne as desired. The stew should be spicy.
Make couscous.
Meanwhile, stir the peas and parsley and/or cilantro into the simmering stew. Simmer for 5 minutes or longer. Taste and adjust the seasonings. Transfer the couscous to a wide serving bowl or directly to wide soup plates. Spoon on the stew, and serve, passing harissa or cayenne at the table.
Makes six to eight servings.
Nutritional information (based on six servings): 471 calories, 22 g protein, 81 g carbohydrates, 21 g fiber, 9 g fat, 1 g sat fat, 0 mg cholesterol, 156 mg sodium
Information
Category

Main Dishes

Cuisine

Mediterranean/Middle Eastern