The New York Times Criticizes Weight of Actresses Jennifer Aniston, Courteney Cox, Kate Hudson, and Christina Hendricks
The NYT Thinks Hollywood Is Looking a Little Marilyn
I think FabSugar will totally agree with me when I say: the ladies of the Golden Globes were looking fierce this year! Everyone looked stunning in their dresses and was glowing with fit, healthy smiles. That's why I am questioning two pieces in the New York Times mentioning the weight of the actresses in attendance.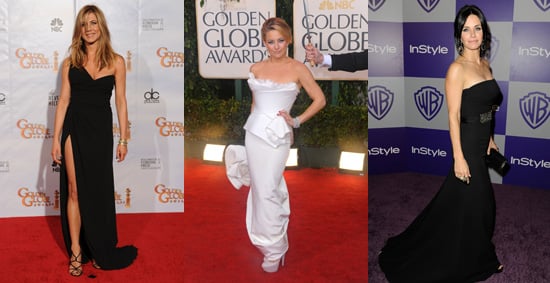 In the piece, A Rounder Golden Globes, writer Andy Port asks, "What do Jennifer Aniston, Kate Hudson and Courteney Cox have in common." I'm thinking it's their fabulous smiles, upper body strength, and legs for days. Nope. It seems that they're rounding out: "Instead of a Barbie-doll circumference, there was suddenly, amazingly, a womanly roundness to their frames. More Marilyn than Twiggy, that's for sure."
To find out where the NYT's writer thought the ladies looked biggest,
.
In the piece, Port writes that if you focus on the upper body of the actresses, you'll better notice their fuller bodies. And while I think Port is celebrating their "new bodies" by pointing out their "sexier curves," I don't see the same thing he does. When I think of Jen, Courteney, or Kate, curvy doesn't really come to mind, nor does a "Barbie-doll circumference." In my mind, these ladies have always been extremely fit and svelte, not like Twiggy or Marilyn for that matter. And certainly in the last few years they've all maintained healthy weights. Port's observations just seem to be a bit of a stretch.
Further proof that the NYT has gone a little off-center in its Golden Globe coverage is Cathryn Horn's comments towards Mad Men's Christina Hendricks — an actress known and praised for her voluptuous curves: "Not pretty Christina Hendricks in Christian Siriano's exploding ruffle dress." (As one stylist said, "You don't put a big girl in a big dress. That's rule number one.")"
I understand that part of the job of a fashion writer is to make critical judgments about style, but to me this quote is a sugarcoated way of saying, "Fat girls don't belong in high fashion." And in my opinion, Christina isn't even "big." Buxom for sure, but not big.
Perhaps why I'm most confused by the pieces is that they single out women known for having active lifestyles and healthy weights. I'm most worried at the message these articles send to the public — if healthy, uber-fit celebs fall into the same category as Marilyn Monroe, what does that say to the rest of us?