Nike Studio Wrap Review
Shoe Review: The Nike Studio Wrap
If you suffer from sliding around on a mat during Pilates or yoga or prefer not to be barefoot during a barre class, then Nike's Studio Wrap Pack ($110) may be your answer to this problem.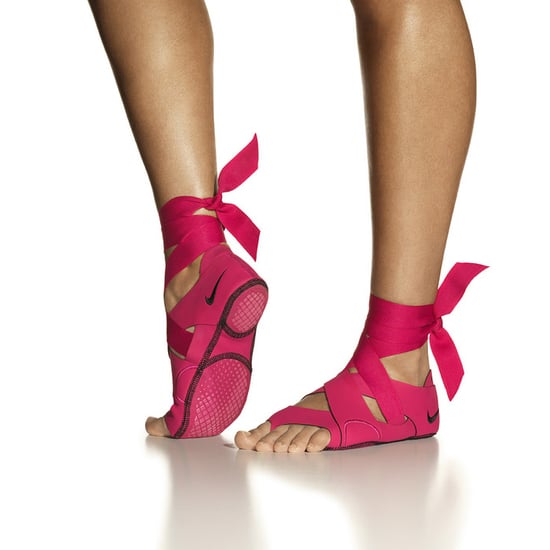 The Studio Wrap Pack consists of three parts: the wrap portion that fits around the foot and ribbons (both pictured above) and a pair of slip-on flats that can be worn with or without the other parts of the Studio Wrap system. While it was a little confusing at first to wrap the ribbon correctly, once I managed to put them on, the sock-like wrap portion was quite comfortable. The stretchy fabric and open design offered a full range of flexibility for my feet and ankles. The ribbons were designed to give support to both the ankle and arch of the foot, but I didn't necessarily feel like they did this in a particularly effective way. But they did spark a lot of questions from admirers, both at the gym and at the yoga studio.
As someone who loves to go barefoot whenever possible, I found the wraps to be a little cumbersome during the yoga and aerobic dance classes I tested them out in. The wraps certainly provided traction when it came to floor choreography off the mat, but they moved around my feet during the more active parts of a mat workout.
While some yoga newbies swear by socks with grips, I worry that they won't learn about building up the foot strength that comes naturally with a well-designed yoga practice. When it came to dance class, I had a full range of motion and was able to move across the floor without any worry. But since the wraps didn't offer a great deal of cushion for the soles of my feet, they just felt a little unnecessary the whole time. My favorite part of the pack might just be the elegant studio flats; these simple, cozy ballet slippers held up on the streets during my city commute, and they were comfortable enough to run errands in after class.
I appreciate that the Nike Studio Wraps offer an open, breathable design; even with the extra coverage and support, your toes are exposed and easily able to connect with the mat. The socks aren't supportive enough for a class that calls for traditional sneakers or running shoes, but as for the "better-than-barefoot" and "flattering foot" experience they promise, the Nike Studio Wraps deliver.