Nike Women's Half Marathon San Francisco Review
Snag Your Own Tiffany Necklace: Nike Women's Marathon Tips
There are many things to love about the Nike Women's Marathon — the female-positive message, the energy, and, of course, that Tiffany necklace — and the fact that it's raised over $134 million for The Leukemia and Lymphoma Society since its inception makes it that much better. I had a blast at last year's race, my first half, so as soon as Nike invited me to run this year as part of their 10th annual celebration, I'd already slipped on my training shoes. With another NWM half under my belt, here's my second-timer's review of the Nike Women's Marathon, plus 11 tips to keep in mind if you're a first-time NWM runner.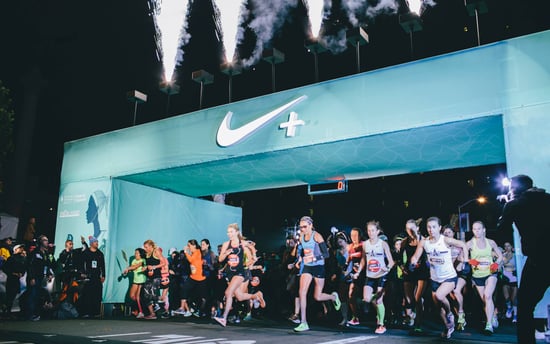 First off, there's no denying it: the atmosphere is amazing. There's nothing like 25,000-plus women (and a few men) running the undulating streets of San Francisco, blowing past famous spots like the Embarcadero, Ghiradelli Square, and the Presidio. Even though I've lived in San Francisco for almost a decade, the beauty of the course still motivates me (even when most of it is covered by fog!). The views are picturesque and exactly what you'd expect from a course that winds its way around San Francisco — beautiful Victorian mansions, foggy bay scenes, and greenery everywhere, all ending with spectacular Ocean Beach views while you make your way down the finishing stretch.
The Course: Miles 0-3
The race starts at Union Square at 6:30 a.m., but if you're not in a speedy corral, be ready to show up and wait. I was in the 10:00-10:59-minute corral, so I didn't cross the official start line until about 7 a.m. I didn't mind the wait; it gave me time to warm up, take photos of the crowds, and calm my nerves. Also, with so many Porta-Potties lining the street near our corral (just one of the many details that made me feel much more pampered at this race compared to others), I was able to take a last-minute bathroom break without having to wait in line.
The beginning of the course is slightly downhill and flat along the Embarcadero and past Fisherman's Wharf. The crowds cheering you on are pretty thick here — at one point there was even a choir to help keep our spirits up. Between the energy on and around the course and the fact that I was finally running the race I'd signed up for months ago, I was feeling pretty good. Then came the hills.
The Course: Miles 4-9
If you're not used to hills, the mid part of the course is challenging; it starts with just a short incline as you run past Fisherman's Wharf (around Mile Three) — once you hit Mile Four, though, get ready for miles and miles of hilly terrain. Even though I ran the NWM half last year, I must've blocked the hills out of my mind, because just when I thought I'd tackled the last one, another would loom in the distance. Also, since many people slow down or walk the hills, I spent most of my time navigating my way through throngs of walkers, which slightly slowed me down. The amount of hills and the bottlenecked crowds were a little discouraging, especially as I became more fatigued, but luckily the bulk of them are over after Mile Nine — if you're running the half, it's pretty much smooth sailing after that.
The Course: Miles 10-13.1
There's a steep decline as you descend toward Great Highway along the beach, which is where I decided to make up some of the time I'd lost during my weary last-hill climb. This ended up being a good idea for my chip time, but a bad idea for my legs — after the race I dealt with mildly painful shin splints for a couple days. Next time, I'll definitely remember to incorporate these tips for running downhill safely.
From Great Highway, you'll turn into Golden Gate Park. I was thankful that the end of the run had me on familiar territory; since I live close to the park I regularly run through it to get to the beach, and knowing just what kind of course I'd be expecting helped me mentally power through fatigue, especially since there's a gradual but perceptible incline around Mile 11 — I'd pretty much had it with the hills by then, so knowing what to expect on the road kept me from giving up and walking. Even if you're not familiar with the course, though, knowing that you have less than two miles to go — or, better yet, running past the Ghiradelli station where you're handed free chocolate goodies — will no doubt help motivate you as well.
After running past a soccer field and up a dirt path around Mile 12, you're almost there. The atmosphere changes again; more people are lining the course, the cheering gets louder, and once you've turned out of the park and back onto Great Highway, the finish line is staring you in the face. A flat road, loud encouraging crowds, and the welcoming sight of the finish line — that's all I needed to motivate me to sprint to the end.
The Crowds
All in all, I love running the half at the Nike Women's Marathon. The temperature is always perfect for race day, the views are amazing, and the course is right in my backyard. But there are a few important things to note about this popular race. For one, the crowds — while it's fun to run with thousands of others through San Francisco, the sheer amount of racers can be hard to deal with, especially since many people are running their first half marathons. If you plan on running the whole course, get there early to line up in front of your corral so you aren't dodging and weaving past the walkers, or register for a faster corral where you know there won't be as many walkers. Unlike other races, where walkers know to stay on the right, participants in the NWM — perhaps because they are race newbies — didn't follow this unspoken rule.
On the same note, be warned that there are lines for everything once you make it past the finish line. First you line up so someone can scan your bib to make sure you're legit before you can move through and pick up that blue Tiffany box (handed to you by a tuxedo-clad firefighter, of course). After that, more lines for your finisher's t-shirt, photo ops, bathrooms, and an incredibly long and disorganized line for the shuttle back to Union Square. Other than dealing with the crowds (which were pretty chaotic this year in part because Nike allowed more people to run for the 10th anniversary as well as complications due to the government shutdown), I liked the finisher's village — I felt well taken care of thanks to the hundreds of volunteers who made it their priority to get the runners everything they needed as fast as possible; there was always someone weaving through the crowds handing out water bottles, chocolate milk, heatsheets, and snacks. My overworked muscles appreciated the effort!
Want to sign up for the NWM? Read on for 11 tips you need to know about the Nike Women's Marathon and details about next year's race.
Make sure you incorporate hill running into your training; you'll have a much better time if you do. If you live in a flat area, up the incline on your treadmill (try this hill repeats treadmill workout) or seek out the steps.
Get to the prerace Expotique, where you pick up your bib, as early as you can. Thursday is a lot quieter than Friday, which isn't nearly as hectic as Saturday; you'll also have a better selection of NWM-branded gear at nearby Niketown if you get there before the hot-ticket items sell out.
Factor in at least 30 minutes wait time after the official start if you're in the later corrals. I heard from fellow POPSUGAR editors who were in the back of the last corral (the 11:00-minutes-and-up group) that it took almost an hour to make their way to the starting line. I still recommend being there by the official start time, but knowing just how much of a wait you'll have can help relieve stress, especially if you are feeling rushed and nervous that you'll be late.
If you're going to walk, try to stay on the right side of the course as much as possible. It can be dangerous for you and your fellow racers if you stop and walk on the left, especially if you've got earbuds in and can't hear runners calling behind you that they are passing.
Starting at mile two there are hydration stations at every mile, but I heard from runners in later corrals that some stations ran out. If you're worried about this, bring your own water bottle or fuel belt for your run.
Speaking of hydration stations — don't panic if you come up to one that's all the way on the left and you're on the other side of the course; there will be another one on your right side. If you need an electrolyte boost, hold out for the sports drink tables at the end of each station.
Similarly, if you know you'll be on the course for a long time or think you'll need an extra burst of energy along the course, bring your own energy gels. There was a Clif Shot Bloks station at mile five, but I heard from a few editors who also ran that they didn't feel like this was enough.
Take a bathroom break as you wait at the starting line — you have the time, and once you run past the long lines at the Mile One Porta-Potties, you'll be glad you did. If you have to go once on the course, hold out (if possible) for the large group of Porta-Potties around Mile 6.
If you're planning on running the whole way, sign up for one of the faster corrals — for example, the eight- or nine-minute miles — so you won't get stuck in a walkers' bottleneck.
Don't forget to stretch after you're done. It's hectic at the finish line, and you'll be so pumped full of adrenaline (or so fatigued you just want to sit) that it may slip your mind. But taking five minutes to do your normal postrun cooldown routine will save you from at least some of the muscle soreness you're expecting the next day.
It's usually pretty cold at Ocean Beach at the finish line, so check a sweatshirt in your race bag before you start so you can wear it as you make your way through the finisher's village and load up on goodies from sponsors. Also, since you'll have to check your bag before lining up to the starting line, remember to wear a sweatshirt or jacket that you don't want any more — you can fling it off as you get warmer while you begin your run for volunteers to collect and donate to charity.
Next year's details for the San Francisco race haven't been released yet, but the Nike Women's Half in Washington DC takes place on April 27, 2014. Whether you want to run through the capitol or tackle San Francisco's hilly streets, keep checking the Run Nike Womens Series Facebook page as more details are announced.