North Face Women's Aconcagua Down Vest
Get in Gear: North Face Down Vest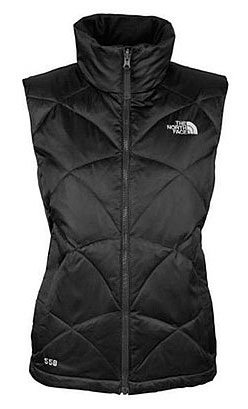 This Christmas I was the lucky receiver of a North Face Aconcagua Snow Down Vest ($100) — it's now my favorite thing to wear. The 550-fill down interior keeps my torso warm and protected, but I still have full mobility in my arms, great for when I'm biking or climbing. When it's really cold out I use it as a base layer since it's not too bulky. I've worn it underneath my wool jacket, and I'm happy to say that I didn't feel like the Stay Puft Marshmallow Man. Score!
I think it's the little features of the vest that make it a great investment. The deep fleece lined pockets keep my hands nice and warm, and there's also an interior zippered pocket that I use for stashing my keys and cell phone. The vest zips all the way up to my chin, and it has a cinch cord around the bottom hem so I can wear it snug around my body — it's like having a mini sleeping bag around my core! I also love that the zippers have tabs on them, which make them a lot easier to use, especially if you're in the middle of a run or bike ride.
It's perfect for the city dweller too. The unique quilted pattern and slight sheen of the material give it a stylish twist — I'll often throw it over a shirt or a hoodie on days when I'm just running around doing errands. With all the colors it comes in, there's bound to be one for you.