Numb Toes and Winter Running
Winter Running Woe: Numb Toes
If you'd rather skip a run than hit the treadmill, then there's no doubt you're continuing with your outdoor runs even through this brisk and snowy Winter weather. That doesn't mean you're not dealing with some discomfort along the way. I've given you some tips on how to beat burning lungs, but if it's your feet that are bothering you, here are some ways to avoid numb toes.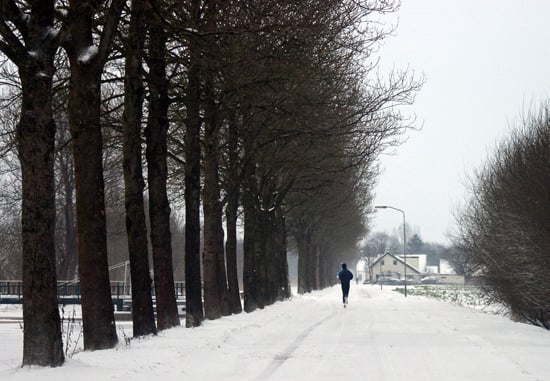 First, consider your socks. You can't get away with wearing the same thin, ankle-length wicking socks you sported in the warmer months. Splurge on some thicker knee-highs; socks made of wool will keep your feet warm and dry. Be sure your socks aren't too tight as that can cut off circulation (go up a size to be sure). You can also try compression socks to improve circulation in your feet and legs.
If you're already wearing thicker socks, you'll probably want to go up half a size in your sneaks to accommodate the extra fabric. If you don't, the snug fit of your shoe might be the sole cause of your tingling feeling. Choose sneakers designed for colder, wetter weather (think waterproof Gore-tex) to protect your toes from the snow. Tie your shoes slightly looser because as you warm up, your feet will swell, and too-tight laces can cause that annoying numb sensation.
Continue reading for more tips on avoiding numb feet.
Before heading out, slip on your socks and sneaks and warm up inside. Briskly walk around your living room, jog up and down your stairs, do a few rounds of running plank or Sun Salutation B, or follow along with this video to learn an active warmup.
Try to run on surfaces that are as dry as possible. If the trails are covered in sloshy or thick snow, opt for the clear roads instead. If it's snowy everywhere, slip on a pair of running snowshoes over your waterproof sneakers to stay more protected from the cold snow.
Source: Flickr User Hans Pama