Nutritional Comparison of Almonds and Cashews
Cashews vs. Almonds
It's no secret that I'm nuts for nuts. From peanuts and almonds to cashews and walnuts, I'm a fan. A perfect snack for folks on the go, they satiate a hungry tummy while providing a healthy dose of fat and protein.

Once upon a time, they were all the same to me. Now I pay attention to which nut I'm eating and how it benefits my diet so I can feel better about what I'm tossing on my salad or into my brownie mix. Almonds, a quick snack fix, and cashews, an age-old favorite, are the two nuts I feast on the most. To see how they fare against each other, check out my side-by-side comparison.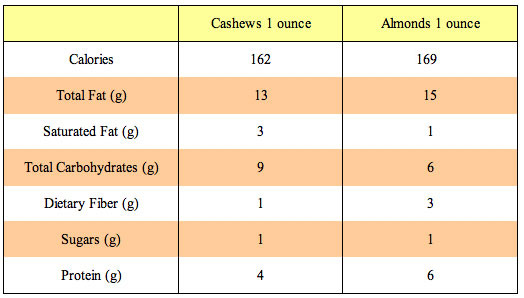 In comparing a cup of unsalted roasted cashews to the equally prepared almonds, there is not too much difference between the two. I was surprised when I saw the almonds were a fattier choice than the cashews, yet higher in carbs. The almonds, however, do get bonus points on the protein and fiber count. Either way, they are probably both healthy choices if eaten in moderation. Like many things, too much of a good thing can be, well, too much. So watch your servings because a few nuts can turn into a cup or two of the tasty treat.