Nutritional Comparison of Carrots and Celery
Celery vs. Carrots
How many times have you been at a soirée and picked at sticks of celery and carrots, occasionally dipping them into a bowl of ranch dressing? A typical party hors d'oeuvre, the veggie sticks are often the healthiest option at a buffet table.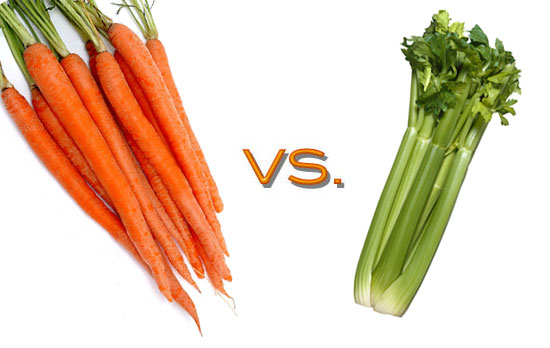 While you can't go wrong with either of them, there are distinct differences between the two, which may have you trying to balance out your consumption.
Want to find out what they are?
Both low in calories and fat-free, the two veggies vary in nutritional value, as you can see from the chart below. Celery brags lower calories and a bit of protein and fiber, and it's a great peanut butter scooper. Carrots, on the other hand, are still low in calories and fat-free but have higher carb, fiber, and sugar counts. What's more is the added nutritional value that carrots have over celery. The orange sticks pack a heavier punch of vitamin A: 428 percent for carrots and 9 percent for celery based on a 2,000 calorie daily diet. Carrots also offer double the vitamin C and iron levels of celery, while the sodium levels remain nearly equal.
So the next time you're at a party and you're choosing between the orange and green finger foods, think about what your body needs — fewer calories or more vitamin A? If the answer is neither, sit back and chew on both of them because they both do the body good. That ranch dressing? Not so much.