Nutritional Comparison of Your Favorite Foods
Food Fight: Fiber, Iron, and Protein
While shopping for yogurt the other day, I saw a woman stocking up on regular yogurt. I couldn't help but casually ask, "Have you ever tried Greek yogurt?" I know it contains so much more protein than the cups she was choosing, and it got me thinking about other foods that may seem alike, but nutritionally, they can be incredibly different. Here are a few seemingly similar foods that have surprisingly different nutritional values. Hopefully this list will help you make healthier decisions the next time you hit the grocery store.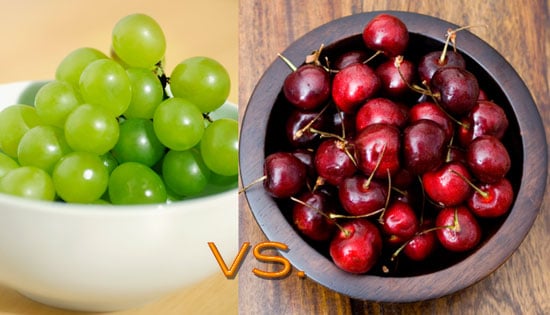 Fruit with the most fiber: While cruising down the produce aisle, pick up some cherries instead of grapes. Twenty grapes contain about .8 grams of fiber, but the same amount of cherries offers 3.4 grams!
Whole grain with the most protein: Long grain brown rice is known for being healthy. A one-cup serving contains 5 grams of protein. Not bad, but pick up some quinoa instead, since one cup has 8.9 grams. It's a protein superstar.
Fresh greens with the most iron: When choosing greens for your salad, I've always loved red leaf lettuce. One cup contains .3 mg of iron, but if you choose spinach instead, you'll get more iron — .8 mg per cup. Every little bit counts.
Continue reading to see how other similar foods compare.