Nutritional Information For Blue Corn Tortillas and Chips
What's the Deal With Blue Corn?
I have a confession to make: I'm addicted to blue corn chips. You'll often find this Tostitos alternative in the health food section, but are they really healthier than a regular corn chip? Actually, they are!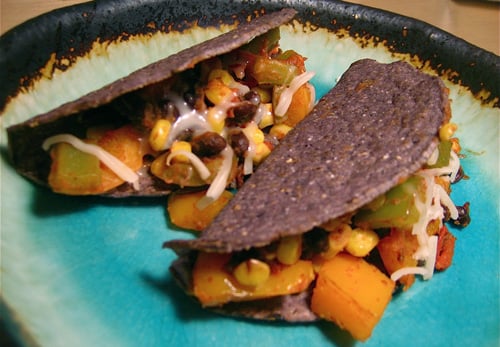 Tortillas and chips made from ground blue corn pack more nutritional punch than white corn. Corn comes in many colors, including white, violet, blue, and black. The blue hue comes from anthocyanins, the same antioxidant pigments found in berries.
That's not the only benefit of going blue. Blue corn has about 20 percent more protein than the white variety, and it's better for your blood sugar. Since blue corn has a lower glycemic index, it's less likely to cause a spike in blood sugar, since the sugars are absorbed more slowly by the body.
In terms of calories, fat, and carbs, blue corn chips stack up similarly to yellow and white ones, so you'll still want to eat them in moderation. But at least you'll know you're getting something more from your snacks.