Nutritional Information on Kiwi Fruits
Learn to Love: Kiwis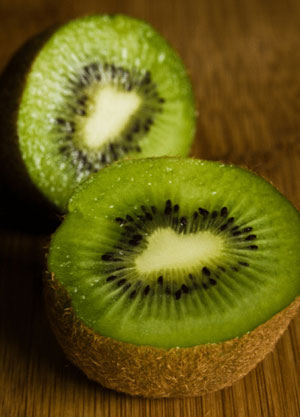 Last week, YumSugar had a box of kiwis up for grabs, but she was having trouble finding any takers. Kiwis are a polarizing fruit, but they're definitely a healthy food worth trying.
This fuzzy-skinned fruit is packed with vitamin C: one medium kiwi contains about 70.5 mg of C, just slightly less than one medium orange. Better yet, buy organic, and vitamin C and polyphenol levels are even higher.
With just 50 calories per kiwi, the green flesh is also high in vitamin E, potassium, and dietary fiber. You can peel them or add a bit of texture by leaving the skin on (vigorously washed of course). They're good in fruit salads and green salads. Can't convince your friends to eat kiwi? Perhaps you'd have more luck serving up a kiwi cocktail.