Oakley Split Thump MP3 Sunglasses
Oakley MP3 Thump Sunglasses: Cool or Not?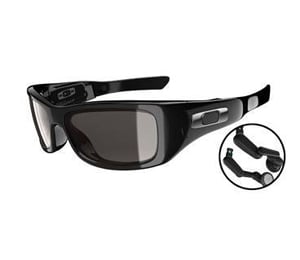 Even though I'm OK working out without music, I prefer not to. Fun Summer jams get me motivated, and music helps me relax too. But sometimes dealing with an iPod can be annoying. Wires get in the way, and iPod cases can get really smelly and gross. But Oakley may have a solution. The Oakley Split THUMP sunglasses ($175) come with a built-in MP3 player that doesn't require any wires, and gives you seven hours of play. They come equipped with removable ear buds that attach to the glasses themselves, and the player can be controlled with buttons on the side of the frame.
The glasses are made to be sweat-resistant, and the built-in MP3 player can download music straight from your computer, whether you're a Mac or a PC. While the idea seems pretty cool, I feel like an iPod might be easier to control while exercising. What do you think of these glasses?