Oatmeal Peanut Butter Coconut Cookies
Healthy Dessert: Oatmeal Peanut Butter Coconut Cookies
If I had a whole case of cookies to pick from at a bakery, I'd be torn between my two faves — oatmeal and peanut butter. Now I don't have to choose with this recipe. Made with all natural crunchy peanut butter, whole wheat flour, and unsweetened shredded coconut these cookies are dairy-free. While I always say a cookie is still a cookie, these Oatmeal Peanut Butter Cookies are much healthier for you than the ever popular Do-Si-Dos, and they're subtly sweet chewy treats with a strong peanut butter flavor.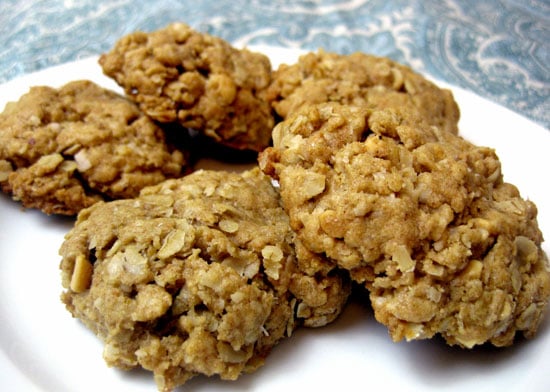 Find out how to make these satisfying little cookies when you read more.
Peanut Butter Coconut Oatmeal Cookies
Ingredients
2/3 cup vegetable oil
1 cup natural peanut butter (I use crunchy)
1/4 cup sugar
3/4 cup brown sugar
2 eggs
1 teaspoon vanilla
1/4 cup unsweetened shredded coconut
3 cups oats (I use half old fashioned, half quick oats)
1 1/4 cups whole wheat flour
1 teaspoon baking powder
1/2 teaspoon baking soda
Directions
Preheat oven to 375° F.
Beat together oil and peanut butter. Then add in eggs, sugar, and vanilla and beat until mixed. Stir in coconut.
In a separate bowl mix together oats, flour, baking powder, and baking soda. Stir this into the peanut butter mixture.

Drop onto a greased baking sheet in 1 1/2 tablespoons globs. Gently press to flatten and bake for 10 to 12 minutes or until lightly browned. Cool on a cooling rack, and don't spoil your dinner.
Makes three and a half dozen cookies (42).
Information
Category

Desserts, Cookies

Cuisine

North American
| | |
| --- | --- |
| Serving Size | 1 cookie |
| Calories | 124 |
| Total Fat | 7.3 g |
| Sat. Fat | 1.5 g |
| Cholesterol | 9 mg |
| Sodium | 19 mg |
| Carbs | 11.8 g |
| Fiber | 1.1 g |
| Sugars | 4.2 g |
| Protein | 3.3 g |
If you have a tasty and healthy recipe to share, post it in the Healthy Recipe Group. I am always looking for new desserts ones to try.