Oatmeal Wheat Germ Cookie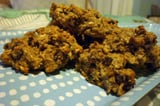 Ingredients
1/3 cup whole wheat flour
1/3 cup all-purpose flour
1/3 cup wheat germ
1 teaspoon baking powder
1 teaspoon cinnamon
1/2 teaspoon baking soda
3/4 cup packed brown sugar
1 1/2 cups uncooked old-fashioned oats or quick-cooking rolled oats
1/2 teaspoon salt
1/2 cup raisins
1/2 cup chocolate chips
1/4 cup nonfat plain yogurt
2 tablespoons butter (room temperature)
1 large egg
1 teaspoon vanilla extract
Directions
Preheat oven to 350° F. Lightly oil 2 baking sheets or line them with parchment paper.
In a large bowl (or stand mixer), sift flours together with the wheat germ, baking powder, cinnamon, and baking soda. Whisk in the sugar, oats, and salt, then stir in the raisins and chocolate chips.
In a separate bowl, combine yogurt, butter, egg, and vanilla in a large bowl. Add this mixture to the dry ingredients, and beat together to form a dough.
Drop mixture by rounded teaspoonfuls 2 inches apart on prepared cookie sheets. Bake for 12 minutes or until lightly browned.
Makes 40 cookies.
Information
Category

Desserts, Cookies

Cuisine

North American