Obesity and Sex
Obesity Doesn't Affect Men in the Bedroom, Well Sort Of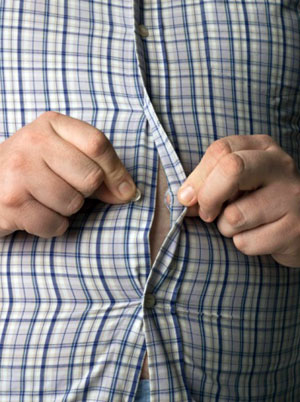 Unfortunately, I wasn't all that shocked to read that a recent study reported "being fat can be bad for the bedroom, especially if you're a woman." What blows my mind is that although obesity affects women's ability to find action under the sheets, obese men don't have much trouble.
One important reason women are more accepting of portly men is personality often trumps appearance. Or maybe the men are powerful or rich (think Tony Soprano or possibly Jack Black), so women overlook their extra weight. Interestingly enough, obese women are 30 percent less likely to find a sexual partner than normal-weight women not because guys are not attracted to them. The most likely reason is that plus-sized women tend to suffer from depression and low self-esteem and are less likely to put themselves out there to find someone.
Although larger men may have no problem getting a woman into the bedroom, it's reported that being overweight increases problems with erectile dysfunction. For both men and women, added weight can make the actual act of sex a challenge. And if they do have sex, heavyset women are less likely to seek out birth control, making them four times more likely, when compared with normal-weight women, to have an unplanned pregnancy.
Living without sex might not be life-threatening like diabetes or high blood pressure, but it does affect a person's happiness and quality of life. Not only does losing extra pounds improve your health and self-confidence, but when your pants become so loose they fall off, you might just have a reason to keep them off.