Oblique Exercise to Trim the Waistline
RX For Love Handles: Add a Twist to Your Plank
Are you falling out of love with your love handles? One of the secrets to trimming down the waistline is toning up those obliques. Thanks to the slim and trim Joy Bauer, I learned a new move that left my sides begging for a breather. A bit challenging on the body, it's an easy enough motion to learn and definitely gives the obliques a run for the money, which means your belts and slim fitting dresses will be thanking you.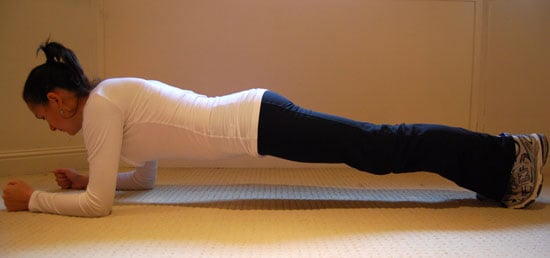 To see how to do the exercise, just read more.
Start in an elbow plank with your elbows at a 90-degree angle. Do not let your tush dip down or slouch.
Bring the right knee in a cross-body motion and touch it to the ground and then kick it back into starting position. Use your glute for that motion.
Repeat the same motion on the other side and bring the left knee across and touch it to the ground. Then come back to your starting position.
Do each side 10 times for one set. Do three complete sets.
Here's a little more detail on the twisting action.