Oiselle Runaway Bride Wedding Dress For Runners
Oiselle Runaway Bride Running Wedding Dress: Cool or Not?
You want your personality to shine when it's your wedding, and if you're a fitness fanatic, chances are that can mean incorporating details into your day that show your love of healthy living, whether it's a prewedding bridal party hike or a menu chock-full of organic options during the reception.
But for running brides who want to make a statement, there's the Oiselle Runaway Bride wedding dress ($1,756). The short dress is made of performance, moisture-wicking material — perfect for the bride who wants to run a 10k before she walks down the aisle — and includes details that are must haves for your wedding day: a ring pocket, a bouquet holder, and a fuel belt that's hidden to keep your ensemble looking picture perfect.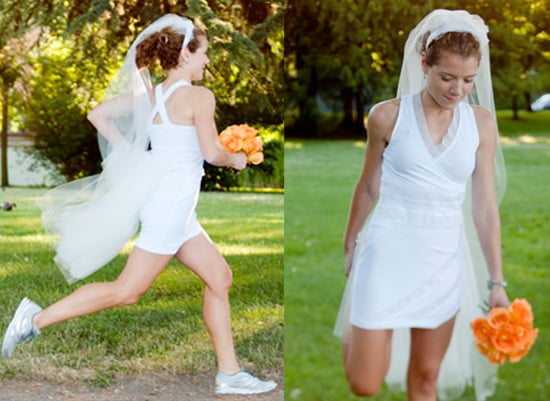 For such a simple dress, the price seems a little expensive, but it does include in-person fittings and consultations at Oiselle's design headquarters in Seattle (and at less than $2,000 may even be considered affordable in the wedding dress realm).
I love the idea of the perfect dress for a nontraditional wedding that incorporates a couple's love of fitness, but what do you think? Is this wedding dress a good idea, or is the price tag too steep?