Olivia Munn Workout Tips in Shape Magazine
Who Needs the Gym? Olivia Munn Makes Fitness Fun!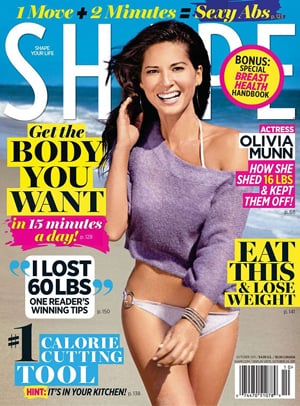 Olivia Munn is on the October cover of Shape magazine, sharing that when it comes to staying in shape, you don't always need a trainer or even a gym. What does keep Olivia fit is a little quality time with her girlfriends!
"I make a playlist — 45 minutes to an hour — of songs, usually '90s hip-hop. It's just myself and my two girlfriends, and we do it four times a week. It's really fun, because it's not just a regular dance routine. We're laughing, and it doesn't really feel like I'm working out . . . [but] everyone's tightening up and losing weight."
We love that Olivia's fitness routine is a good old-fashioned dance session with her ladies. Not only is she getting in shape, she's also spending some quality time with the people that are important to her.
Has Olivia inspired you to call your friends for a workout date? Check out the reasons why you should below!