Olympian Natasha Hastings the 400 Meter Diva Interview
400 Meter Diva Natasha Hastings on Running For Olympic Gold
Finishing a quick tour once around the track with times hovering at the 50-second mark, the potential US Track Team is deep with female talent ready to conquer the 400-meter event at the Summer games. The women's relay team will most likely have a shot for a repeat gold medal performance, too. A member of the winning relay team in Beijing, Natasha Hastings told us in a recent interview that she hopes to break the tape in the individual 400-meter event in London this August. Recognizing the possibly tense team dynamic that accompanies four fast women on a relay team who are also vying for gold in the solo event, Natasha explained, "Track and field certainly is an individual sport. But when we get on the relay, we are teammates — but to get on the team, we are competing against each other. So it does kind of create an interesting mesh."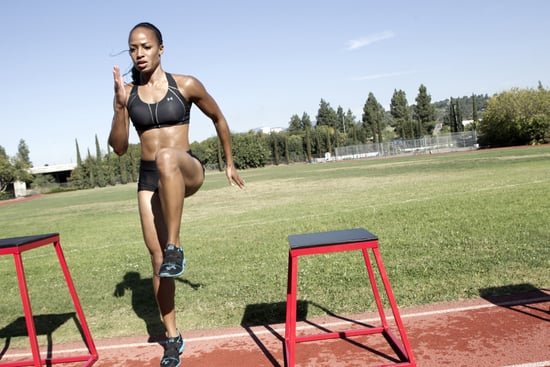 Hastings ran for the South Carolina Gamecocks, but the nickname she earned during her college years, the 400 Meter Diva, has a much more feminine ring to it. When interviewed before a big collegiate meet and asked why the native New Yorker chose a southern school, she replied that the team all looked like divas — in a good way. The moniker stuck and Natasha explains, "I just ran with it." Her college coach also taught her that "If you look good, you feel good. And if you feel good, you run good." Looking good included wearing business suits to meets and makeup on the track. "I never compete without makeup. It is kind of like my game face. It's part of my routine when I'm getting ready to go out to the track. It's fun, but it's part of my ritual."
Learn her fave beauty products, fitness gear, and exercise after the break.
Her favorite beauty product of the moment: "Right now, I'm kind of in love with Chanel. I love the foundation, Mat Lumière, and Chanel lip glosses are amazing." Once I learned what she likes to use on her face, I was curious what she puts in her body to fuel her workouts and races. "I really just try to have some oatmeal and fruit in the morning. I eat some dried fruit and granola throughout the day while I'm competing. It's hard to have heavy food in your stomach while competing." And for gear, Natasha is digging her Armour Bra by Under Armour. "Particularly because as an athlete, I'm already challenged in that element. It doesn't make me look so much like a pancake; there's actually a little bit of padding in it, so it helps me out."
Although Natasha is a certified personal trainer, her only job right now is training, and it's a full time one at that. She works out three to four hours a day, doing a combination of weights and track work. She hates pull-ups and loves power cleans (a technique for lifting heavy weights on a barbell) — yes, this runner can lift. Her legs may be her lucky ticket, but her favorite body part is her arms. "I get compliments on those. I kind of like being buff, so I get a kick out of seeing the cuts in my arms." Taking care of herself off the track is a big part of her job. After her strength training and track workouts, she explains, "I'm either getting worked on or working for the next day." Her recovery routine includes ice baths, which she dreads but finds necessary.
Having experienced the rush of competing in the Olympics at Beijing, she has learned to keep her focus on the track. "Don't look into the crowd" will be part of her prerace mantra. "When I was getting ready to compete [in Beijing], a good friend told me, 'Natasha, whatever you do, just don't look into the crowd.' Sure enough, when I went out, I looked into the crowd. I had to learn that the hard way."
The Olympic Trials for Track and Field begin June 22, a little more than a month before the opening ceremonies in London. Until then, Natasha will just keep on running, lifting, and competing.