Olympic Speed Skater Apolo Ohno Gives Interview Through Twitter
Apolo Ohno Opens Up to Fans Via Twitter
This afternoon I was lucky enough to participate in an interview session with the most decorated American athlete in Winter Olympic history — seven-time medalist Apolo Ohno. The speed skater was nice enough to field questions live via Twitter from his 100,000+ followers (including me!) before heading back onto the ice to train. Gotta love technology!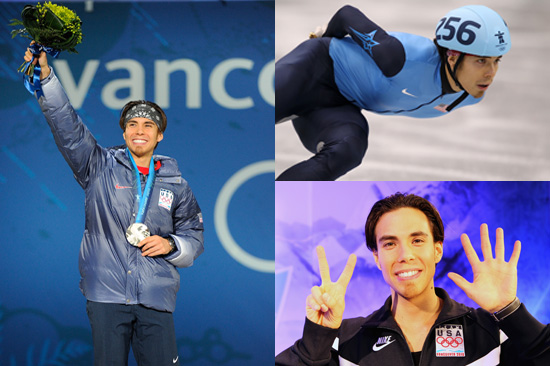 During the interview I learned that Apolo relaxes before a race by obsessively yawning (it also gives his lungs a bit of extra oxygen) and that despite his appearance in a McDonald's commercial, he hasn't been munching on Big Macs during the games. Check out what else I learned about the champion below.
There are no words to describe winning a medal. Apolo is nothing but smiles during the medal ceremony, saying that there's no way to really explain what it's like being up there. "[I have] many thoughts and emotions [running through my head]," says Apolo. "It's an honor to stand on that podium."
When it comes to working out, Apolo is a man of nature. Apolo's favorite way to exercise is to be outdoors, saying, "Nature is sacred!" On the top of his list is running (btw, Apolo is a sneaker freak) and biking. He also stays in shape by doing squats and leg presses.

To find out what Apolo's hidden talent is and how Team USA trains for the Olympics, read more.

Even a champion gets nervous. Even though he has a face that reflects cool determination, Apolo is only human. "Yes I get nervous — I embrace it, it's natural," confesses Apolo. "Although, these Olympics I've been very relaxed. More anxious!"
Short-track skating takes a lot of training. Apolo says that speed skating is a tough sport, and to stay on top of its game, Team USA does "tons of cross training. Weights, running, biking, jumps, hiking — you name it!"
Watch out for his other hidden talent. Besides blowing your mind on the ice, Apolo confesses that most people don't know that he has a secret talent for . . . poker! "

I'm a hustler on the poker table and roulette calls my name, LOL!"