Olympic Trials Update: Jeneba Tarmoh Skips Race, Dara Torres Doesn't Make Team
Olympic Trials Update at the Track and the Pool
We're fired up for all the Olympic trials. With the gymnastics teams decided (learn more about the five gymnasts headed to London here), we've been waiting on the outcome of two races, one at the track and the other at the pool.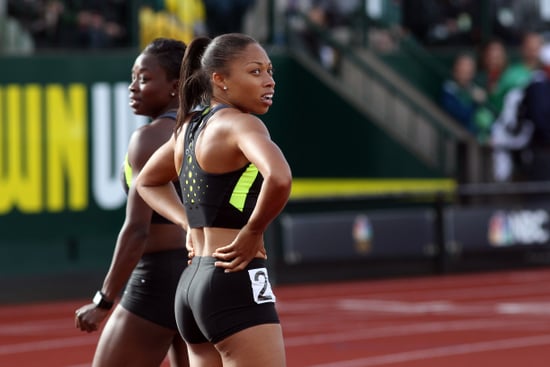 Track and Field
Allyson Felix and Jeneba Tarmoh tied for third place in the 100-meter sprint last week. In an unprecedented situation, the USA Track & Field commission offered the runners two choices: have their Olympic fates settled by a coin toss or a runoff featuring the two sprinters. Felix and Tarmoh both opted for the race, which was to be televised this evening, but today Tarmoh pulled out of the race, giving up her spot on the US team, but she will act as the alternate should something happen to another runner. Jeneba will also take part in the 4x100 meter relay. It's interesting to note that both athletes train with the same coach, Bobby Kersee. Felix will be racing in the 200 meter sprint in London as well, having run her personal best on Saturday.
Swimming
The 45-year-old swimmer Dara Torres placed fourth in the 50-meter finals today. She missed making the Olympic team by .09 seconds. The veteran Olympian gave it her all, but three races in two days meant lack of recovery time, which ultimately affected her time. Torres left the pool deck arm in arm with her 6-year-old daughter.