Olympic Update July 28
London Update July 28: The Lochte-Phelps Showdown Begins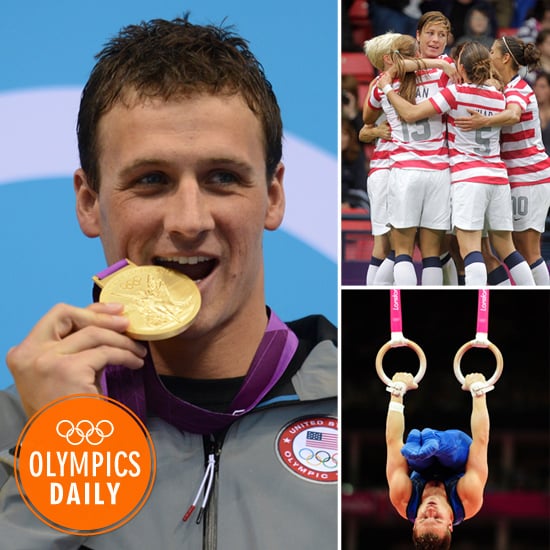 The first day of Olympic competition proved exciting! Gold medals were won, and Olympic records were broken. Here are the highlights from July 28 and what to keep on your radar tomorrow.
Gymnastics
The US men lead the team competition after preliminary rounds. The men were predicted a podium finish, but it's a pleasant surprise to have see them surpass the highly favored Japan in points during the first round of team competition. The medal-deciding team finals will be Monday. The women's preliminary rounds will be held tomorrow, so be sure to tune in and watch.
Swimming
Teammates on land but rivals in the pool, Ryan Lochte and Michael Phelps both qualified for finals in the men's 400-meter medley, but Phelps just barely. In the finals, it was Lochte that won gold with Phelps just missing the podium, finishing a dejected fourth.
Dana Vollmer broke an Olympic record in the preliminary heats, leading the semifinals for the 100-meter butterfly. She swam the race in 56.25 seconds. Could the finals, which will be held Sunday, July 29, bring a new world record in this event? We shall have to see. Go, Dana!
Natalie Coughlin won her 12th Olympic medal when the US women placed third in the 400-meter freestyle relay.
For more on soccer, cycling, and beach volleyball keep reading.
Soccer
The US women won their second match, defeating Colombia three to zero. Midfielders Carli Lloyd and Megan Rapinoe both scored, as did Abby Wambach — her sixth Olympic career goal, a new US record. Abby was also punched in the eye by a Colombian player during the match and has a bit of a shiner. The women will play North Korea on Tuesday.
Cycling
It was a surprise win for Alexander Vinokourov of Kazakhstan in the men's road race, as the Brits, who dominated this year's Tour de France, were favored to win. Vinokourov, who served a two-year suspension from cycling for doping in the 2007 Tour, also won silver in the road race at the 2000 Games in Sydney. The 39-year-old beat 25-year-old Colombian rider Rigoberto Uran in a sprint to the finish line. American Taylor Phinney just missed a podium finish, landing fourth place. The women's road race will be held Sunday, July 29.
Beach Volleyball
Misty May-Treanor and Kerri Walsh won their first match at the games in two sets, beating Australia. The game was a nail-biter — the sets were close: 21 to 18, 21 to 19. The match began at 11 p.m. local time, much later than most matches start. April Ross and Jennifer Kessy, the second American team, take on Argentina in beach volleyball on Sunday, July 29.