Olympic Update July 30: Swimming, Tennis, and Men's Gymnastics
London Update July 30: Time For Tennis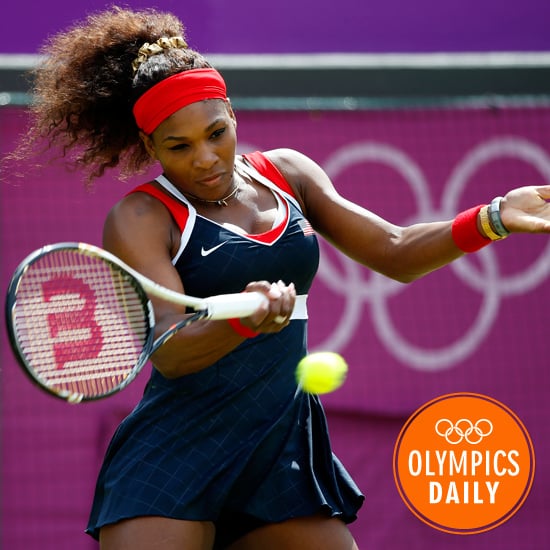 Tennis matches got into full swing today in London, with athletes playing on the familiar grass at Wimbledon! It was great to see players sporting their nation's colors rather than traditional tennis whites.
Spoiler alert: We have scores and medal news from today's events after the break, so keep reading only if you're ready for the updates.
Tennis
Andy Roddick won his first round of Olympic play, beating Martin Klizan of Slovakia: 7-5, 6-4. Serena Williams also won both her first singles match and doubles match, playing with sister Venus. Venus, who is unseeded coming into the Olympics, also won her first match in the singles competition beating Sara Errani of Italy, who is seeded ninth. Venus won 6-3, 6-1.
Swimming
When it comes to the 100m backstroke, the US is seeing double gold. Missy Franklin claimed victory in the women's event as did Matthew Grevers in the men's. Team USA's Nick Thoman claimed the silver in the men's 100m backstroke competition too.
Ryan Lochte unfortunately missed the podium in the 200m freestyle finals today, placing fourth. The anchor of the gold-winning French 4x100m freestyle relay won gold, and two silver medals were awarded to Taehwan Park (South Korea) and Yang Sun (China) who tied for second place. No bronze medal was awarded since only three medals are awarded per event.
Michael Phelps qualified for the 200m butterfly finals. We will have to wait until tomorrow July 31, to see if he wins gold.
Gymnastics
The US men, who did so well in the team preliminary rounds, weren't able to pull out of the hole and finished a disappointing fifth in the final. China won gold with Japan taking silver, after some controversy on scoring. Great Britain claimed the bronze — it's Team GB's first men's team medal since 1912.
Beach Volleyball
Misty May-Treanor and Kerri Walsh won their match today against the Czech Republic. The dynamic duo won the match in two games, coming from three points behind to win the second game. Misty also turned 35 today. I am sure the victory is a nice little birthday gift for the both of them.
Tomorrow, July 31:
The US Women's Soccer team plays North Korea.
The women's gymnastic team finals. Gabby Douglas will compete in all four events. Jordyn Wieber will compete in all events except the balance beam. Aly Raisman will represent the team in her two strongest events, floor and beam. McKayla Maroney will compete in vault and Kyla Ross on uneven bars and beam.
Swimming: Men's 4x200m freestyle relay final, men's 200m butterfly final, women's 200m freestyle final, women's 200m IM final.