Olympic Update July 31: Swimming, Women's Gymnastics, and Soccer
London Update July 31: Swim For It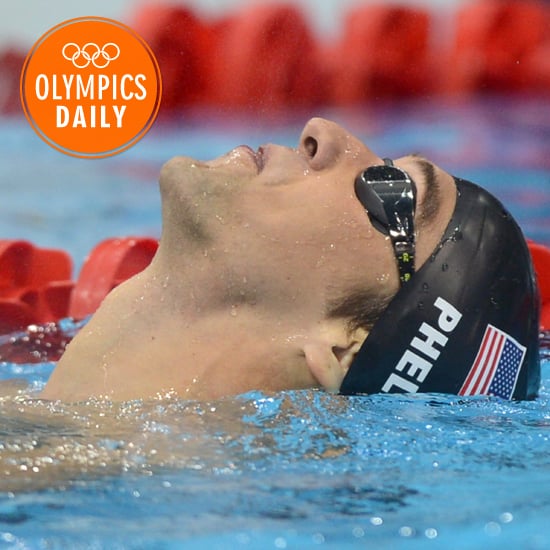 It was a huge day for Team USA in swimming with four final competitions today. Tons of excitement at the pool along with support from family and fans helped the US make a few huge splashes.
Spoiler alert: We have scores and medal news from today's events after the break, so keep reading only if you're ready for the updates.
Swimming
Michael Phelps made major Olympic history! Phelps now holds the world record for all-time Olympic medals after receiving gold in the 4x200 relay and taking home another silver medal this morning for the 200m butterfly. His career medal count total 19 — 15 gold, two silver, and two bronze.
On another historic front, Team USA's Allison Schmitt rocked the pool and set a new Olympic record in the 200m freestyle. Missy Franklin was also in the race and took fourth place in this morning.
Gymnastics
Amidst all the pressure, high expectations, and tons of publicity from Jordyn Wieber's unfortunate elimination in the all-around finals, the US women's gymnastics team bounced back! For the first time since 1996, the team consisting of Gabby Douglas, Jordyn Wieber, Aly Raisman, McKayla Maroney, and Kyla Ross took home the gold in the team final. It's the second time ever that the US women's team has won the gold in the team competition.
Soccer
The US women beat North Korea in soccer and will play their quarterfinal match on Friday in Newcastle. North Korea put up a good fight but not enough to beat the far more experienced US team. The final score was one to nil, with the single goal of the game scored by striker Abby Wambach. The North Koreans have been a bit of an enigma to the Olympic community; their women's soccer team is ranked in the top 10 in the world, yet they're still relatively unknown due to their country's political climate.
Tennis
Both the women's doubles teams, the Williams sisters and Liezel Huber and Lisa Raymond, are safely through to the second round of Olympic doubles. While both of the Williams sisters will be competing in singles, we learned this morning that neither will be competing in mixed doubles. Instead, the duo of Liezel Huber and Bob Bryan will take one mixed doubles spot with Lisa Raymond with Mike Bryan also competing. Recently, Serena has been open about her desire to compete in the event, but it looks like a little R&R will be the plan instead before her other big games.
On a sadder note, Serbia's Novak Djokovic beat Andy Roddick in less than an hour of play in men's singles.