Oprah's Favorite Fitness and Health Items on Her Favorite Things Episode
Oprah's Favorite Healthy Things
If you haven't already heard the hysterical screams coming from a certain Chicago television studio, the two-part (and last-ever) episode of Oprah's Favorite Things 2010 aired last Friday and today. Between luxe items like a VW Beetle, Caribbean cruise, and diamonds, Oprah also gave away quite a few healthy living gifts — she needed something to balance out her favorite mac and cheese and croissants! Check out which fitness, healthy food, and wellness items Oprah is buying this year.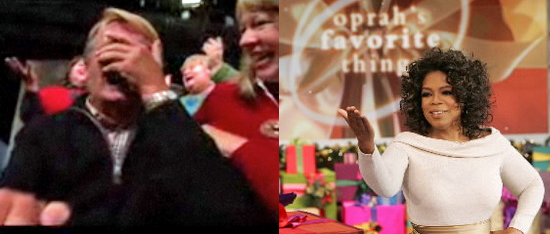 To find out what healthy gifts Oprah gave on her Favorite Things: Part 2 and see a video of the audience freaking out, read more.
Prepara Herb Savor ($30). Using herbs in cooking will cut down the need for salt and sugar. The Prepara Herb Savor keeps fresh herbs, well, fresh — for up to three weeks!
Miraclebody Jeans ($110). When you're trying to lose weight, getting into a pair of jeans can make or break your day. Oprah loves jeans by Miraclebody because they have built-in shapewear — think Spanx — that instantly make you look 10 pounds lighter. Is this where the whole jeggings trend started?
Talbott Teas Ultimate Collection ($150). We can't say enough about the benefits of tea, and this collection from Talbott Teas is pretty amazing: 12 different tea varieties, honey sticks, tea pot, and a serving tray.