Oprah Tweets About the Gym
Oprah Reveals Her "Greatest Accomplishment" (Hint: It's Gym-Related)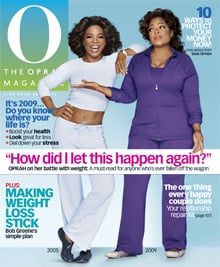 When asked about her greatest accomplishment on Twitter yesterday, Oprah shared, "My whole life. From Mississippi to now. Going to gym when I really prefer wine + chips."
Oprah has always been forthcoming about her battle with her weight and the effort it takes to stay on track. Obviously, the mogul's tweet is a little tongue and cheek and makes light of her accomplishments as a businesswoman, but her quick response serves as just another reminder that no matter who you are, making sacrifices and skipping everything you might want in the name of fitness and long-term happiness and health is hard work.
Do you count your commitment to your health among your greatest achievements? Share your story in our Get Fit For 2011 group for a chance to be featured on FitSugar and win great prizes.