Orange Juice and Talking a Walk Could Help With a High-Fat Meal
3 Surprising Strategies For High-Fat Meals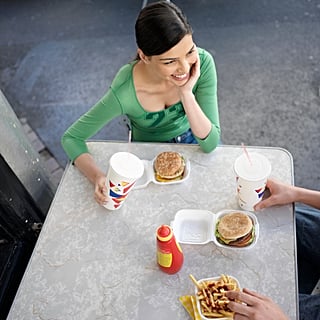 Even the healthiest among us can't eat healthy all the time. Sometimes, you just gotta indulge in a bacon and egg breakfast or an after-dinner ice cream cone. The scary thing, though, is that heart-unhealthy foods start to have an unhealthy effect on your blood vessels as soon as you've finished eating. But recent research has found it may be possible to start reversing the damage right away, too. Here are three surprising strategies for dealing with high-fat meals.


Drink orange juice. Researchers at the University of Buffalo say flavonoid-rich drinks such as OJ could help reverse the damage to your heart and blood vessels caused by high-fat foods.
Eat earlier in the day. If you're going to indulge in one high-fat meal, make it breakfast or brunch. According to new research from the University of Alabama, eating a high-fat breakfast may help fight metabolic syndrome, such as high cholesterol and diabetes. Based on a study of mice, scientists found that those who ate a morning meal high in fat maintained normal metabolisms, versus those that ate a later high-fat meal.
Take a walk. Taking a 45-minute walk after a big meal also works against the impairment of blood vessels caused by high-fat foods. Just make sure it's a brisk walk within two hours of eating.