Organic and Fair Trade Chocolate For Valentine's Day
Make Chocolate Count: Organic, Fair Trade, and Vegan Picks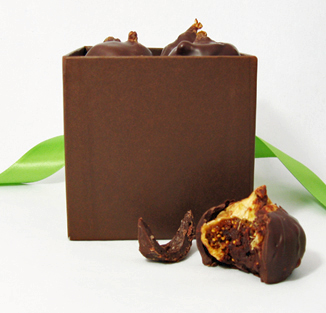 I'm definitely a fan of Valentine's Day, but mostly because I like the excuse to eat chocolate. Besides tasting good, dark chocolate is full of heart-healthy flavonoids (equal to many fruits), can soothe a cough, increase blood flow, and lower blood pressure.
Spread the love even more this holiday by buying my picks for chocolate that's organic, Fair Trade, or health-inspired, and don't forget to throw in a cute card — your sweetie will love you even more for it!
Vosges chocolatier Katrina Markoff fuses her premium chocolates with things like curry, wasabi, and ginger, but we especially like Vosges because of its yoga and chocolate weekend workshops. Make vegan and gluten-free friends happy with the Vosges vegan truffle collection ($25) — with ingredients like agave nectar, organic coconut milk, pomegranate, and acai, this collection is sure to be a hit with health conscious friends.
The handmade Drunken Figs ($35) from Cocoavino are made with red wine and dark chocolate — talk about antioxidant overload! Chocolate from Cocoavino is organic and Fair Trade certified, made with wind power, and sold in eco-friendly packaging.
Forget Nestlé Crunch; Dark Quinoa Chocolate bars ($5) from Alter Eco give you that same crunch except with a tiny burst of protein. Alter Eco sources all of its ingredients from Fair Trade farms and also helps fund community development programs.
To see what other chocolate made the cut, read more.
The Belle of the Berries ($22) box from Lillie Belle Farms is completely organic and made from raspberries, strawberries, and marionberries straight from the Lillie Belle Farm in Oregon.
If you're looking for pure chocolate without the frills, grab a Kallari chocolate bar ($6), one of the few organic, Fair Trade, or Rainforest Alliance bars that got good marks from The New York Times. The Kallari story is unique in that the company is a cooperative of indigenous Kichwa farmers from the Ecuadorian Amazon; the group is made up of cacao farmers, self-taught chocolate makers, and other artisans.