Outdoor Stair Workout
Become an Outdoor Stair Climber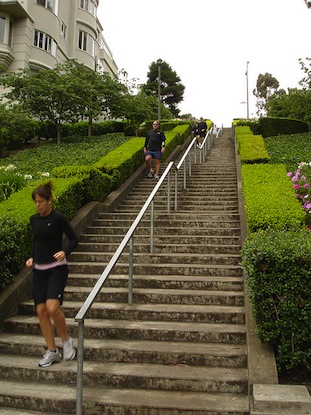 Sure I can take the stairs when the elevator is broken, but when it comes to stair-climbing to burn extra calories, I'm a bit of a wimp. You see, stairs sort of scare me. Once you start going up a big flight, you know you have to keep going, and the intensity can be overwhelming. Stair climbing is intense because you're carrying your body weight against gravity. And if you take the stairs two at a time — which is basically like combining the StairMaster and lunges — you'll really feel the burn in your hamstrings, glutes, quads, and booty. And those calories? A 130-pound person can burn around 400 calories by running up stairs for just 30 minutes.
Do you ever explore public steps in your city or neighborhood? Here in San Francisco, there are so many amazing outdoor steps to climb that I know I need to just lace up, stop whining, and start putting them to the cardio test. Not only is climbing stairs good for you, but going down stairs is beneficial as well because it reduces blood-sugar levels more than walking uphill. The only downside of going down is that it can be hard on your knees because your leg muscles are in an eccentric or lengthened position, which can strain the knee joint.
Here's an easy way to start outdoor stair climbing and a short inspirational video.
Now that Spring is here, we should all be giving our gym memberships a break and enjoy some sunshine outdoors while we break a sweat. Go solo or grab a friend and get going! Here is an easy way to start:
Warm up by slowly walking up and down the stairs for five minutes.
Sprint from the bottom of the stairs to the top as fast as possible.
Jog down to the bottom.
Repeat for 15-20 minutes.
Cool down by slowly walking up and down the stairs for five more minutes.
Remember to keep lots of water on hand!
And here's your inspirational video to get you moving:
Source: Flickr User beckysnyder