PE Activities to Whip You Into Shape
6 Back to School Exercises Fit For Adults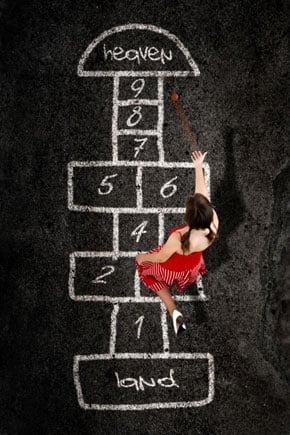 Who didn't love recess back in the day? Shoot, I still love recess! A kid at heart, I still enjoy some of the pastimes from the blacktop era that used to get my heart pumping. With school back in full swing, I'm ready to get into my old physical education mode and fire up some elementary workouts from the schoolyard.
Hoola hoop: Get the hips working and the quads engaged with a little hoola activity.
Tetherball: If you can find a tetherball post, you'll remember how much fun it is while working out some arm muscles.
Hopscotch: Break out the chalk and whip up a pattern on the driveway for a fun, heart-pumping workout.
Check out the rest and add your favorite to my list in the comments!
Jump rope: Grab a rope and get jumping. The old rhymes may help you power through your intense cardio.
Jumping jacks: Get ready to feel the burn when you jump into action with some jumping jacks.
Dodgeball: Fire up a game of dodgeball with your mate or roommate to sharpen your reflexes and fire up some cardio movement.
Don't forget to tell me your favorite PE activities from days of past in the comments below!