Pack These Workout Clothes in Carry-On Suitcases
Carry-On Only? Here's What Workout Essentials to Include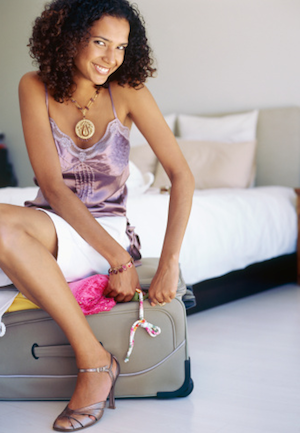 I wish I was handed a quarter for every time one of my travel companions said, "You should just do carry-on" or asked, "Why don't you pack lighter?" Whenever I do try to pack lighter, I find my workout wear gets left out. There are lots of compact gym essentials that can easily fit in a suitcase, but when it comes right down to the basics, how do you know what to take? Here are some options I found that may do the trick!
Pack Moisture-Wicking Items: Any workout wear that soaks up the sweat while you're working out, will also be a quick-drying item that you can easily wash in your home-away-from home. If you're staying in a hotel, as soon as you get back from your fitness class or the gym, throw your gear in the bathtub. Fill the tub with lukewarm water until it's covering your clothes; add in a tablespoon or two of shampoo; swish around the water a few times; and let soak for a half hour to an hour. Drain out the water, rinse your gear, and hang to dry on the shower curtain rod. Your items should be dry by the next morning and ready for you to wear again! Some items with moisture-wicking fabrics include Fila's Performance Sports Bra ($20), Nike's Dri-FIT Be Bold Poly Capri Pants ($40), and Asics Favorite Tank ($35), which also conveniently comes with UPF 50+ UV protection to help shield you from the sun.
Keep reading for more suggestions.