Papaya Is Natural Heartburn Remedy
Halt Heartburn With Papaya Enzyme
That chili cheese dog was calling your name, and now that you downed the entire thing in five minutes flat, heartburn and indigestion are making you wish you hadn't. That burning pressure in your chest is unbearable, and if you don't like reaching for over-the-counter meds like Zantac, take advantage of a natural remedy — papaya.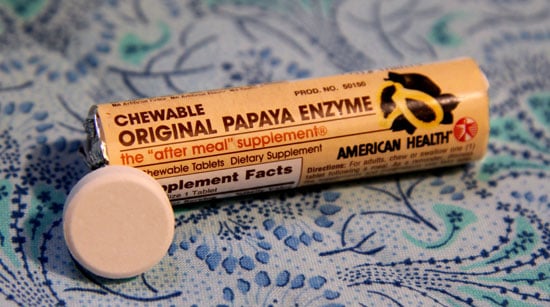 This tropical fruit encourages digestion, eases indigestion (and constipation), and is known to relieve heartburn. The magic is in the enzymes papain and chyomopapain, which break down proteins and soothe the stomach by promoting a healthy acidic environment.
You can reap the benefits by eating fresh papaya or drinking fresh juice, but these options are not always convenient when heartburn hits. Also, eating unripe papaya may lead to uterine contractions making the fruit off-limits for the many pregnant women who suffer from heartburn. Since I should be counted among the pregos plagued with digestive issues, I found some papaya extract tablets that contain ripened papaya fruit with papain, amylase, and protease enzymes. I keep the little $3 tube in my purse, and when I eat something I know won't sit well, I chew one tablet. I'm amazed at how well it works.