Patricia Moreno's Intensati Class Review
Class Act: The IntenSati Method
What do you get when you cross aerobics, yoga, and martial arts in one? intenSati. Curious about the fitness craze that has taken Manhattan by storm, I jumped into a class here in San Francisco to see what the buzz was all about. After 55 minutes, my sweaty red face and shaky legs told me part of what I needed to know — it's a good workout! But there's more . . . intenSati goes deeper than cardio and lunges. It's also about empowerment, building one's confidence, and finding courage to take control of one's body and mind.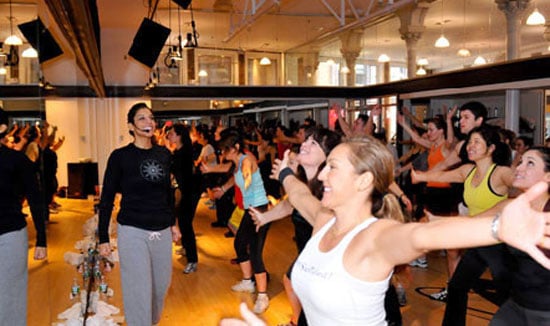 We can all go through the motions of any step aerobics class and get our gear soaking wet. IntenSati does all that but also offers a work out of the mind, which we could all probably use from time to time, if not every day! Influenced deeply by Deepak Chopra, Patricia Moreno, the creator of the intenSati method, believes in positive psychology and asks her class participants to cheer themselves along during the workout.
Want to learn more about the method and see a video of intenSati?
I'll admit, I was a bit hesitant going into the class because I wasn't sure I would enjoy the described combination. However, I was pleasantly surprised and found myself asking when there would be another class. As expected, I got a great cardio workout, but it was the mental boost that surprised me most. If you're looking for a feel-good start to your day, this class has got it. If you're struggling with depression or going through a rough patch, intenSati may provide you the boost of confidence you need to get back on a positive path. How so, you ask?
While doing jumping jacks and punching the air, the entire class shouts phrases of affirmation like, "I have strength!" or "I have willpower!" It may sound a bit cuckoo to some, but I have to say that if you're feeling a bit challenged in the middle of an intense workout, it helps to have the teacher's and your own vote of confidence. The point of the intenSati class is to focus on what you already have and how to make the best of that — through affirmations, giving thanks, and letting go. And I have to believe those "can do" feelings go a lot further than the studio boundaries. When I left the class, I did feel stronger — mentally and physically. It's the kind of class you want to introduce to your friends. In fact, I am trying to figure out how to get my aunts, cousins, mom, and sister to do it over the holidays. I think it would be a great bonding and empowering experience for all of us and could help to whittle away the waistlines after some indulgent eating.
Take a look at the video and tell me if you would try it out. If you can't find a class near you, there is a video ($16) available to try, too.