Pay in Cash at the Grocery Store
Smarter Eats: Pay Cash at the Grocery Store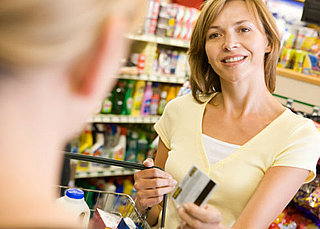 Researchers have long maintained that consumers making purchases with actual cold, hard cash spend less money and make wiser purchasing decisions than those who pay with plastic. Parting with your actual, physical hard-earned money creates something called "pain of payment," which decreases the enjoyment of consumption. And apparently, the same logic applies to your grocery store habits. Researchers have found that people who pay in cash make healthier food choices at the grocery store than people who pay with plastic.
According to the study's authors,
"When consumers encounter vice products — such as cookies, cakes, and pies — the emotive imagery and associated desire trigger impulsive purchase decisions. Pain of payment can curb the impulsive responses and thus reduce the purchase of such vice products."
The study tracked 1,000 shoppers and their habits over a six-month period. When shoppers paid with credit or debit cards, they were more likely to purchase unhealthy foods. So, if you're looking to smarten your trips to the grocery store, hit the ATM first to avoid temptation in aisle five later.